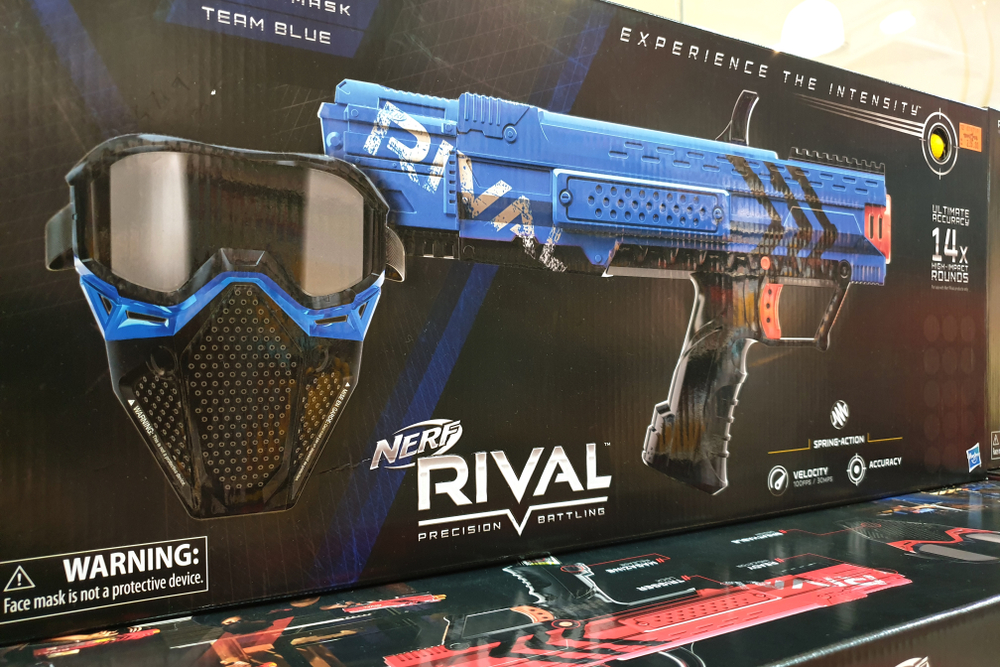 Must-Have Nerf Gear
The last thing you want is for your kids to go into the heat of battle without all the right equipment. You've already found the best nerf blasters for the job. Now, it's time for the right Nerf gear!
Running out of ammo can instantly turn a fun competition into a chore while you scour the ground for Nerf darts. Or, an unfortunate shot to the face can completely derail a victory without adequate protection.
But your kids don't need to worry about that because you've done your research and found out about all the best Nerf gear and where to get it. Right?
If you haven't, don't sweat it. We did all the research for you. Below, you'll find a list of all the Nerf gear you need to keep the shoutouts going and to stay safe.
Nerf Vest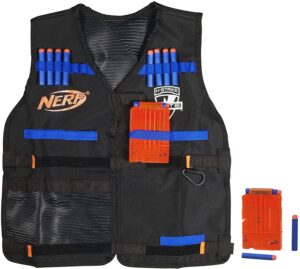 Tactical vests are a key part of any combat outfit. You need a place to store your ammo packs, clips, walkie talkies, and maybe the odd carton of juice to stay hydrated during a fight.
The Nerf N-Strike Elite Series Tactical Vest gives you all that and more, and it's specially designed for Nerf accessories. It comes with two dart clips and 24 elite darts but stores six dart clips in total. It's got a carabiner for weapon storage and tons of pockets for odds and ends. All that coupled with breathable mesh fabric makes this the vest of choice for any serious Nerf enthusiast.
Perhaps most importantly, it has the Elite N-Strike badge over the left breast, letting everyone know the person wearing it means business.
Nerf Goggles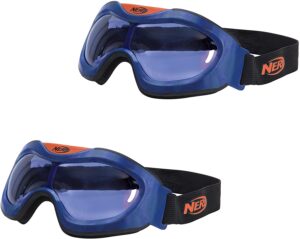 The importance of eye protection when using any projectile weapons can't be stressed enough. You may want to read our guide to nerf gun safety before letting your little ones battle it out. Even a pair of cheap safety goggles is better than nothing. But "better than nothing" surely isn't good enough. For full protection in style, you'll want a pair of Nerf Elite Goggles.
Nerf Goggles are lightweight and super durable, ready to stand up to even the most demanding conditions. They also feature an elastic band to hold them securely in place while the battle rages.
Padding around the frames and shatter-resistant lenses are also featured. Even though they're Nerf brand goggles, they're not particularly pricey. These are the best Nerf goggles you can find for the money.
Nerf Face Mask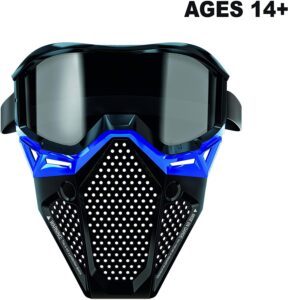 The bare minimum of protection you'll need is goggles. However, it's prudent to go a step further and use full-face protection whenever possible.
The Nerf Rival Face Mask is a key piece of equipment to turn an ordinary kid into an ultimate Nerf competitor. Each mask has a highly-visible color strip identifying the wearer as a member of team red or blue. It's lightweight and breathable and minimally restricts vision. And with a fully breathable design, you can wear it for hours without any problems.
Nerf face masks are meant to withstand a Nerf dart but they can double as face protection for other light activities, as well.
One small caveat: these masks are rated for children 14 and up. They're a little too large for smaller kids.
Nerf Ammo Belt

There is no tragedy greater than having your opponents pinned down and suddenly running out of ammo during the final charge. With a Nerf N-Strike Elite Series Bandolier Kit, that scenario will never transpire.
Nerf's bandolier holds up to four dart clips and 12 individual darts. Enough for even the most trigger-happy fighter to stay in the battle. The bandolier also comes with two quick-reload clips and 24 individual darts, so you won't have to purchase them separately.
If you really want to take your game to the next level, two bandoliers give you twice the firing power.
Nerf Dart Carry Case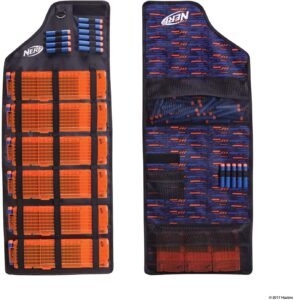 Every army needs a support crew. And there's no better way to support your team than always being ready to resupply their ammo reserves.
The Nerf Elite Dart Carry Case is the solution to those frustrating matches that end due to a lack of ammo. With a carrying capacity of up to six dart clips of up to 18 darts each, along with hundreds of individual darts, you can be sure you and your team will always be ready for action.
It has multiple straps and pockets for easy organizing and an adjustable carry strap. To make reloading as fast as possible, the carry case features a Velcro closure and elastic straps.
Nerf Walkie Talkies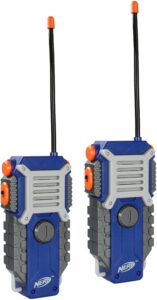 Good communication will give you a bigger edge in a battle than just about any other single element. And there's no better way to stay in touch in the action than high-powered Nerf's high-powered walkie talkies.
These walkie talkies feature a rugged design so they can take a hit. And with 1,000ft range, they're great for the snipers on the team who like to survey the battlefield for their teammates. They also double as camping transceivers in a pinch if you need to stay in touch while hiking and camping.
Nerf Practice Targets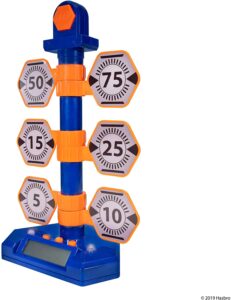 A backyard Nerf battle typically only lasts a few minutes. Not enough to really get in as much practice as you'll need to become an elite-level Nerf champion. To get to that level, you'll need to do some extra practice, and that's where Nerf Bulls-Eye Digital Target comes in.
This digital target will test even the most experienced Nerf sharpshooter with six swinging targets and an electronic scorekeeper. It even has multiple settings for several players to compete and see who's the better shot. And it even has three different game modes to keep it interesting for hours on end.
Gear Up and Get Ready
Technically, all you need for a fun day out with friends is a few Nerf guns and darts. But there's only so far that will get you.
These accessories will make a huge difference and you'll notice a massive improvement in both your gameplay and how long the matches last.
At the very least, make sure you're wearing adequate protection and have enough darts to power through an afternoon. A set of Nerf goggles and an N-series tactical vest should be enough to get you started.
And remember, it's Nerf…or nothing.