Water Guns with the Longest Range
For many years, playing with water guns has been a favorite summer activity. Getting hit by a stream of water feels so refreshing during hot days, even adults enjoy using them. While you can have fun with any water gun, many prefer the long-range models, which can hit a target from 50ft or more. In this article, we'll review five of the best long-range water guns currently available.
If you prefer to fire water beads. Check out our list of the best gel blasters.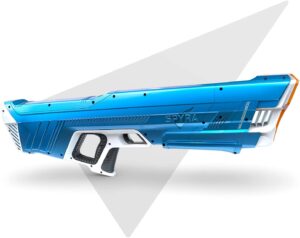 Dubbed the "World's Most Powerful Watergun", the Spyra is geared towards older "kids". This water cannon can launch a pressurized burst of water up to 50ft. This may be a bit much for the young ones to handle.
Watch this video to get a better idea of what this water gun can do!
For the older kids, this powerful water gun will tip the scales in their favor with 22 blasts of water each time you reload. You are certain to dominate the water battlefield with this quick-loading and high-powered unit.
Click here to buy one of the longest shooting water guns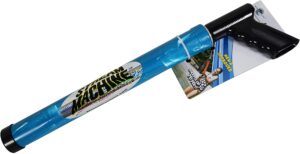 This water gun certainly lives up to its name, as it can reach targets more than 70ft away. The double-barrel mode is also powerful, with a maximum distance of 50ft.
While there are a few models of Stream Machine, this one is recommended as it has the largest 22" barrel. Optionally, you can upgrade it with a secondary 17" barrel for a total of 36". Note that this additional barrel is included in a package.
But range isn't all this model has to offer. The refiling is easy, as you only need to pull back the handle after submerging the barrel in the water. Still, as there are no onboard tanks, you should play near a pool or other water sources. As this is an easy-to-use and lightweight gun, it's also an excellent choice for children.
What impresses is the build material. High-quality polymers guarantee durability, while the impregnated color won't peel after a few high-velocity sessions. With a price of $18.68, the Stream Machine TL-750 is very affordable, making it an excellent choice.
Click here | Order this water gun on Amazon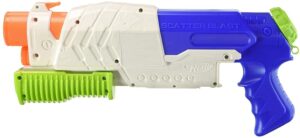 Nerf produces outdoor toys of excellent quality, and the Nerf Super Soaker Scatterblast is no exception. This is a pump-action water gun with a surprisingly long range and a few more nifty features. With five nozzles, it's not surprising that the Super Soaker Scatterblaster is bulky. Still, even smaller children will be able to hold it thanks to the ergonomic handle design.
Like with real shotguns, you'll have to use both hands to hold it to achieve decent accuracy. Interestingly, the gun has a sight, which should further help you hit your target. Unfortunately, to use it, you'll have to remain stationary. Even then, it's impossible to be steady while aiming this pump-action gun.
With a range of over 34ft, this model is among the best on the market. With a capacity of just 22 ounces, you'll need to refill it pretty often, though. Like other Nerf toys, this one is made from safe and durable materials. With basic care, you can use it for years without visible wear and tear.
Priced at $18.95, this isn't the cheapest long-range water gun, but it's still a top choice if you like the pump mechanism.
Click here | Order this water gun on Amazon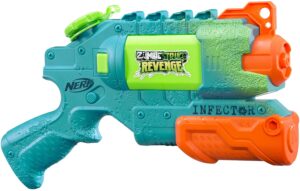 If you like Nerf products, the color combination of neon green, orange, and aqua blue will tell you that the Strike Revenge Infector is a part of their Zombie line.
This gun may look menacing thanks to its corroded look, but it also packs quite an impressive punch. What makes this model unique is that while it resembles a pistol design, it uses a pump-action lever. This mechanism helps the Strike Revenge Infector to hit targets up to 40ft away. Among other lightweight water pistols, it offers the longest range.
The biggest drawback is that the gun can't hold more than 12 ounces of water. Luckily, refilling is quick and easy, so it won't take much time to get back into the action.
Built from high-quality materials, the Strike Revenge Infector won't be easily broken. Because of its compact size, it can be handled effortlessly by kids, while the long grip helps adults use it, too. If you're looking for a long-range water pistol with a unique design, this is the model to get. Still, with a price of $27.95, it's among the more expensive products on the market.
Order the Zombie Strik Super Soaker here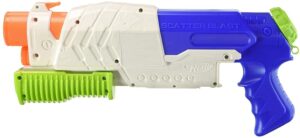 Many long-range water guns have the same problem – a lack of capacity. If you want to stay in the action for longer, the Nerf Super Soaker Breach Blast may be the solution you need.
With 50 ounces of water capacity and a 38ft range, you'll be unstoppable. This gun has a pump mechanism that's fun to use, if it does lack a little accuracy. While it's comfortable to hold by children, it might be too heavy for them when filled with water.
Of course, even with a half-full tank, the Soaker Breach Blast has a better capacity than most other water guns. It also helps that the grip is excellent, although holding the handle might be uncomfortable if you have bigger hands.
With a $24.99 price tag, this is the best buy if your primary concerns are a big capacity, long-range and fresh design. While the accuracy might be lacking, and some design decisions could be better, these are only minor faults.
Click here to learn more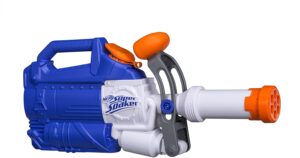 The Super Soaker Soakzooka is very different from other long-range water guns on our list! It closely resembles a minigun, like the one used by a T-800 in that iconic scene from the Terminator 2 movie. You'll have to use this water gun like a minigun and shoot from the hip.
But thankfully, the Soakzooka uses a simplified shooting mechanism. Unlike the usual pump-and-trigger solution, there's no trigger here. Instead, you shoot by moving the handle back and forth.
This blaster fires an enormous amount of water, hence the massive 55-ounce tank. Refiling is quick, as there's no need to unscrew the cap. Rather, it flips up. This solution is simple, eliminating the chance of errors in the heat of battle.
In terms of range, it's possible to hit your opponents from 35ft away, so clearing the playing field with Soakzooka is an easy task. While it's not the lightest or the most ergonomic water gun, using it is entertaining as it's so different from everything else. Plus, the Soakzooka is also affordable, with a fair price of $27.42.
Click here to order the Soakzooka