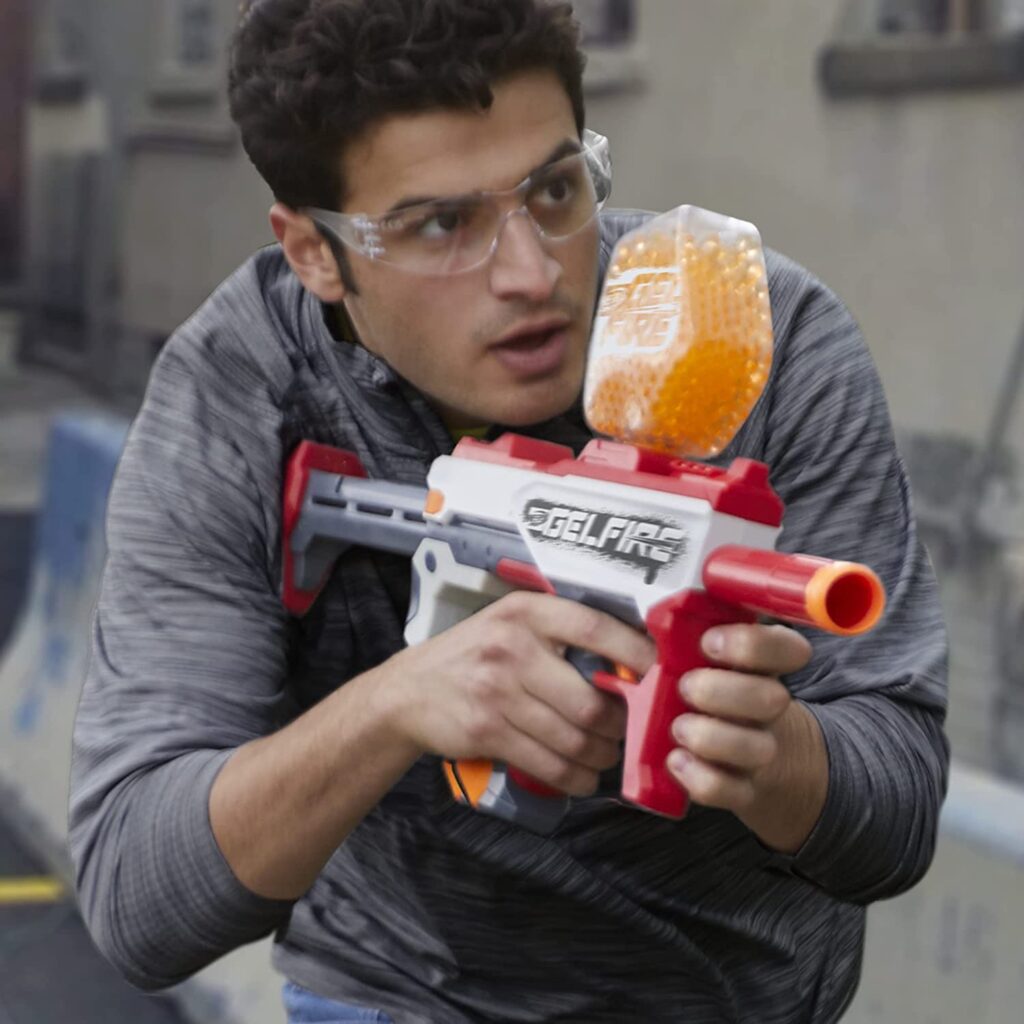 The Best Gel Blaster
Battles with gel blasters are some of the best ways to have fun shooting. Not only are gel weapons highly entertaining, but they are also much safer (they burst on impact into a fast evaporating, non-toxic gel) and less painful than paintball battles. The rapid firing can make them a little more exciting than many of the best Nerf guns. In addition, the ammunition they use is eco-friendly and biodegradable. As a result, there's hardly a safer way to do some blasting, both for you and the environment.
But to make the most of your gel gunning sessions, you need to select the right blaster. To narrow down your choice, we've come up with the seven best gel ball-based weapons in 2022.
Which features do the best Gel Blasters Have?
When selecting the best gel blaster, consider the following:
Where do the gel beads load from? The gel hoppers that sit on top of guns lead to more jams.
How do you charge the battery? Blasters that can be plugged in directly are easier to use than blasters with removable batteries.
How much does it weigh? A heavy blaster becomes a burden if you are planning extended play times.
How far and accurate is the blaster? This is key to winning your battles.
How many gel balls does the blaster hold? If you are the last person that needs to reload, there is a good chance you'll win the battle.
What Are the Finest Gel Blasters?
The gel blasting market is plentiful, and there's a perfect gun for every shooter. Take a look at our hand-picked weapons and see which one is the ideal match for you: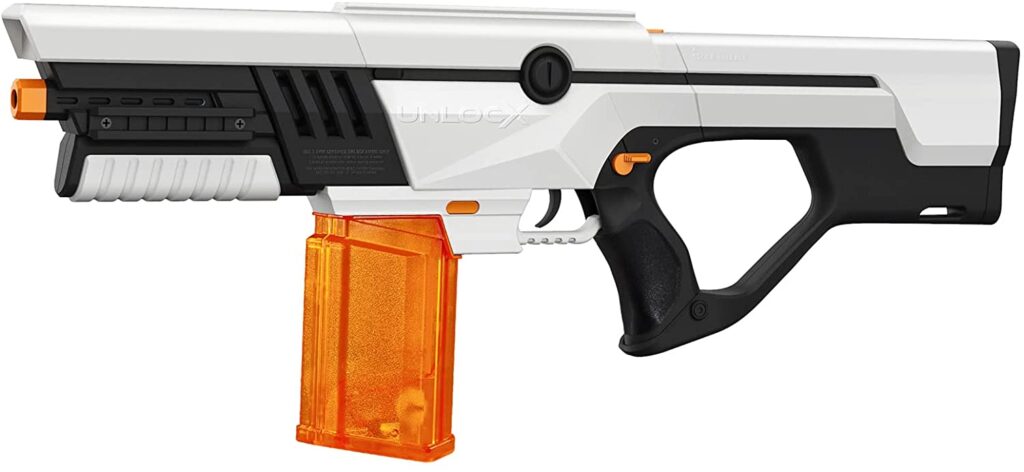 The gel blaster from UnlocX is highly-rated on Amazon because of its high-quality design. You can modify this blaster by removing and rearranging four sections. It's similar to some of the better Nerf guns in this way.
With a 7,000-gel ball capacity, you can fire this blaster for about twice as long as the typical blaster. Also, users report very few jams after heavy use. That makes this one of the best gel blaster guns for extended battles.
There are a few downsides. This is a heavier option than most on the list. It's not a great option for the younger ones.
Click here to order the UnlocX
This electric blaster comes with an optimized gearbox and automatic speed configuration, allowing for a near-real-life firing experience. The weapon uses 7-mm hydrogel balls, and its maximum size is 33x8.5 inches. It can strike your opponents from 65 feet away and includes protective goggles. The blaster shoots two or three beads per second. Even though the rounds start losing velocity at around 40 feet, the drop curve is minimal.
The weapon is made of high-quality materials, while the cool-looking design and outstanding features provide fun-packed gel blasting sessions. On top of that, the gun is great for outdoor sessions, and unlike paintball, you don't have to clean up your mess once you're done. The rounds explode after hitting a surface and gel vanishes entirely.
The battery life is decent and allows you to shoot through several gel tanks at a time, providing about 60 minutes of continual entertainment.
The package includes one blaster, one gel ball which contains 2,500 beads, a pair of safety goggles, a USB charger, and a lithium battery of 1200 mAh.
Click here | You can find some more advanced gel blasters that are meant for the older kiddos at the Anstoy store.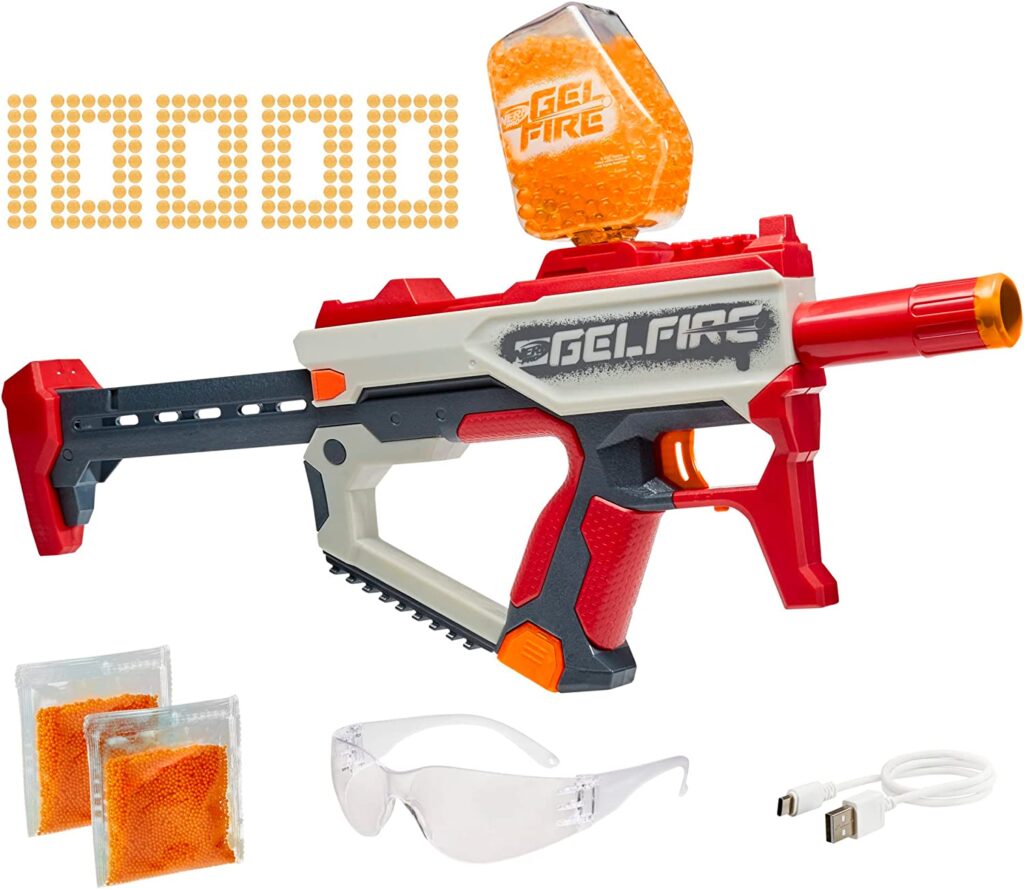 We were so excited to see Nerf get into the gel blaster game. To us, this means gel blasters are more than just a passing trend.
The Gel Fire is what you would expect from a quality manufacturer. You will enjoy rapid firing with hardly any jamming.
Anyone who has fired a gel blaster knows how annoying it is when nothing comes out or several gel capsules fire widely at the same time. This Nerf gel blaster is consistent and smooth firing whether you have it in automatic or semi-automatic mode.
We were pleased to see that Nerf packages a good number (10K} gel balls, and safety equipment with the blaster. This is a great holiday gift for kids over 14.
Click here to order.
Update: Please note that the Surge blaster version 1 (sold until October 2021) was recalled. We recommend you return it if you bought one. There is a chance of the battery overheating. You can read more here. https://www.miamiherald.com/news/recalls/article267672522.html, This is no longer an issue in the newer blasters
Now let's take a look at another rechargeable model, the Surge gel blaster which uses gellets that break when hitting a surface. However, they don't make a mess (they disintegrate and dissolve), sparing you some pesky cleaning.
The gel pellets are eco-friendly, and you need to soak them in water before loading the gun. They can reach up to 100 feet and travel at 150 FPS. The gellets are entirely safe to use and their residue disintegrates once they dry off.
The weapon includes blue and orange barrel tips and fins, allowing you to switch team colors easily.
Order Here | Save 10% with CODE: GREGG24088 at checkout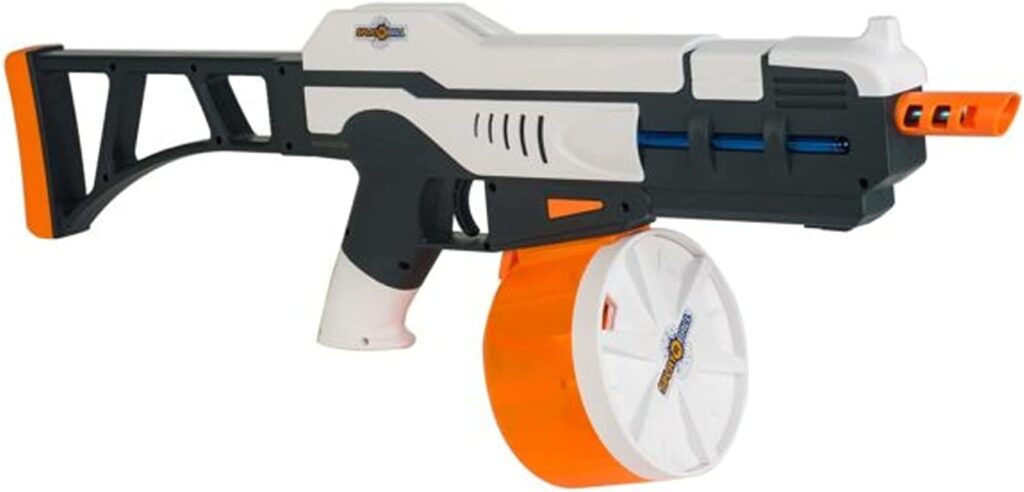 The styling on this gel blaster is pretty simple, but the performance makes it one of the best gel blasters available on Amazon. Some highlights of this SplatRball Water Bead blaster include; the rapid firing of up to 8 gel balls per second, the gun is fully automatic, you can load up to 400 rounds of gel ammo, and the blaster can send the water beads up to 30 yards.
The combo pack at Amazon includes the blaster, ammo, and a target sheet.
Click here to buy this blaster.
Click here to see more blaster options at the SplatRball store.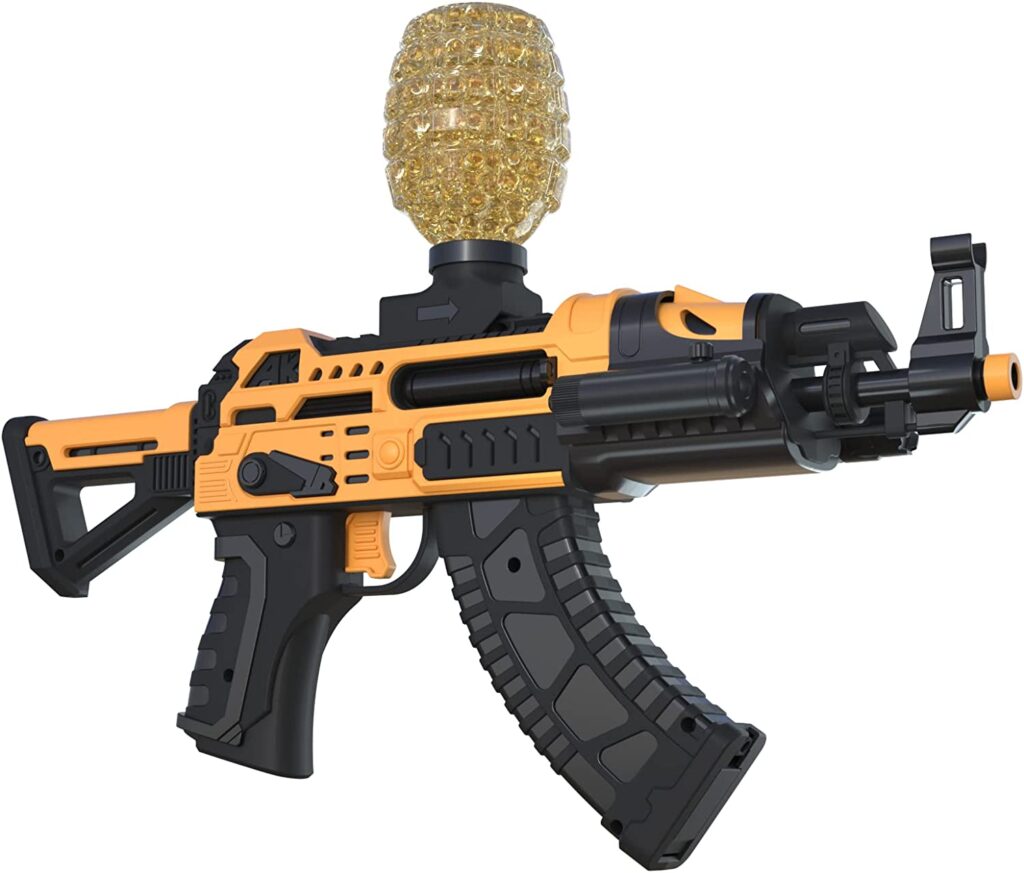 The YaGee toy gun might be the Best Gel Blaster for close-quarter combat. It can reach targets 40 feet away and is suitable both for outdoor and indoor skirmishes. The weapon is constructed from excellent materials that are environmentally friendly and non-toxic. Plus, the water bomb is harmless, too, and the gel balls vaporize automatically once they break.
The diameter of the bomb is between 7 and 8mm. Before you shoot the gun, make sure to soak your gel ball between four and six hours to increase moisture retention and allow for full expansion. Also, don't forget to avoid shooting people in the eyes or head. Hitting them in such areas can be dangerous, regardless of the type of ammunition.
The gun is incredibly easy to use. Setup takes just a couple of minutes and the battery lasts for quite a while before it needs to be recharged.
The blaster comes with a USB charging cable but doesn't include a charger. Luckily, you can use your Android or iPhone charger to power up. The weapon is suitable for players aged 14 or over.
Here's another viable candidate for the Best Gel Blaster in close-range fighting. The gun has a striking design that will turn heads on the battlefield. The complete set includes the gel blaster, a reusable battery, USB charger, infrared sighting, 2500 gel ball seeds, and safety goggles.
The pistol is also easy to use. It comes pre-assembled, and you only need to install your gel bullets that have been previously soaked for between three and four hours. Mount your battery, toggle the switch, and it's time to have fun shooting.
Make Your Pick and Blast Away
Each of these gel blasters delivers outstanding performance and offers a safe way for you, your friends, and your family to get some thrilling action. Depending on your preferences, you can decide whether you need a handgun or rifle and choose the ideal color. Once you select the perfect item, start assembling your team and show off your shooting prowess.
Some Favorites That Aren't Currently Available
Anstoy Electric Gel Ball Blaster
The Anstoy Electric Gel Ball Blaster is an outstanding gel blaster gun for many reasons. It features safe ABS materials, along with soft water beads. The accuracy is terrific, and the gun is a great choice, whether you're playing indoors or outdoors.
Before you start your shooting sessions, soak the ammunition in water for approximately four hours. When the rounds are fired, they explode upon hitting a surface and disperse into tiny pieces that disappear after drying.
Since the pistol operates using electricity, it comes with a USB charging cable and a rechargeable battery.
This is a rechargeable gel blaster gun that shoots gel balls filled with water. These are known as "gellets" and burst upon impact. The gun comes pre-assembled. All you need to do is charge your battery, fill your hopper, place it atop your blaster, and turn the switch to "on" to start shooting.
You can use pellets with different colors, too, in your team-fighting sessions. Another option is to practice with the auto-reset targets and hone your skills by yourself. These are sold separately.
Additional equipment includes a 7.4V rechargeable battery, charger, mini flashlight, red-dot sight, accessory rails, 3,000 gellets, and safety glasses.
Scorpion Gel Ball Blaster
If this is out of stock, click here for a great alternative.
The final entry on our list is a Scorpion blaster that features high-quality materials which are also non-toxic, meaning that children can use the pistol harmlessly. In addition, the ballistics makes the gun much safer to use than some other models. It can hit targets from a distance of 65 feet, providing a good chance of accurate shots.
Among other things, the set includes 10,000 water beads, two grenade bottles, a muffler, and a high-capacity magazine.