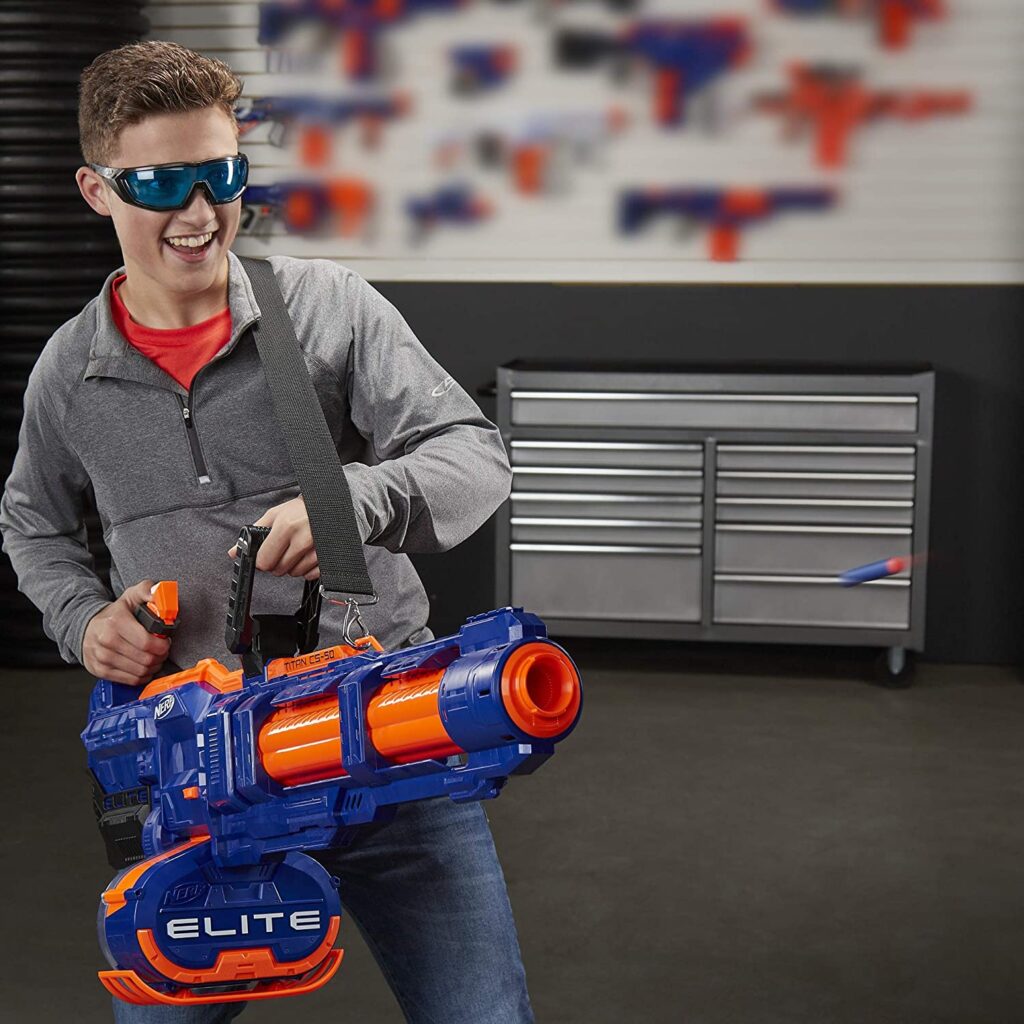 Best Nerf Guns Reviewed
Playing with Nerf guns is a favorite activity among families. These toys represent affordable, harmless fun, as long as you're wearing protective glasses! But with so many models on the market, it can be hard to make the right purchasing choice. In this guide, we'll review the best Nerf guns for every budget and player type.
The 12 Best Nerf Guns in 2020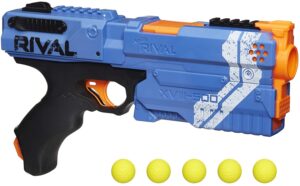 You should never go into a battle without a trusty weapon, and NERF pistols are an excellent choice. While they're not as powerful as automatic guns, models like the NERF Rival Kronos XVIII-500 will surprise your rivals. This model comes in blue, red, and white, and is one of the best designed Nerf guns around. Luckily, the Kronos XVIII-500 is easy to carry and efficient, with five high-impact foam balls.
The trigger lock, spring-action mechanism, and tactical rail will help with your aim. It's also comfortable to use with one hand, so the more daredevil enthusiast may even dual-wield with two guns. That said, this only applies to teenagers and adults, as this model fires harder and has a large grip. Low capacity and the lack of slam fire are the only weak points here, but that's understandable, considering the $19.99 price tag.
Click here for latest prices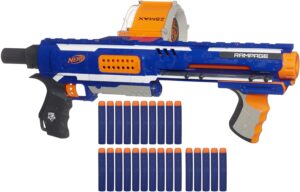 If shotgun-style Nerf guns are among your favorites, the N-Strike Elite Toy Blaster might just be the right choice for you. Combining slam and rapid-fire with a 25-dart drum gives it a lot of firepower. The range is also excellent, as this blaster can hit your opponent from 90ft. Firing the darts is manual, but the advantage here is that this model doesn't require batteries.
This makes the gun suitable for children. Even though it packs impressive firepower, the N-Strike uses darts with hollow tips that won't cause any harm.
Overall, the N-Strike Elite Toy Blaster is a universal Nerf gun. It's easy to carry while it can hit a target from a long distance. It also excels in close combat, and with rapid-fire, you'll make your enemies run for cover. While you may experience a few jamming issues, they're rare enough not to spoil the enjoyment. And although the $69.75 price is above average, it's still reasonable.
Check the latest price here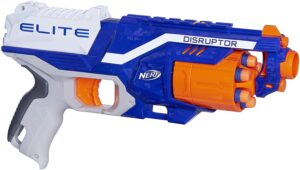 While the Nerf N-Strike Elite Strongarm is still among the best Nerf pistols around, the Elite Disruptor certainly puts it in the shade. What makes this model better than its predecessor is the loading mechanism. The Strongarm had a revolving chamber similar to real revolvers, which made reloading very slow. In comparison, this model uses a front-loading mechanism, which might not be realistic, but is definitely more practical. This way, reloading became much faster. This solution simplified the gun, also making it more affordable at $17.99.
The N-Strike Elite Disruptor doesn't use batteries, but it features slam fire. Firing power is impressive as the blasted dart can reach up to 80ft. The trigger is very responsive, making this model an excellent secondary weapon. Like most other foam pistols, the capacity is only six darts. Plus, you need to be careful, as the gun will jam if the darts slip in the cylinder. Because of its compactness, the N-Strike Elite Disruptor is ideal for all generations and can easily be dual-wielded, since the handle has a comfortable grip to help you be more accurate.
You can order one here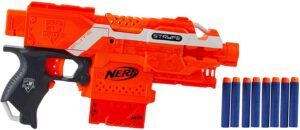 Semi-automatic Nerf guns take the best elements of manual and automatic models. They provide better accuracy then automatic blasters while being quicker to fire than the manual mechanism. Even though the N-Strike Elite Stryfe Blaster has been available for years, this nerf gun is still among the best on the market. This is a compact blaster suitable for all ages, which can also be upgraded. Instead of the basic six-round clip, you can install an 18-round mag. The firing mechanism requires spinning up the flywheel to shoot, but you can do so easily with your middle finger. Patience is the key. If you fire too soon, the darts will travel a short distance. Even though flywheel based blasters can have problems with reliability, the Stryfe only displays this weakness when the battery life is low.
This model is among the most accurate in semi-automatic class, and even better than many full-size blasters or pistols. By shooting straight, the darts will reach about 40ft. But with a 45 degrees arc, you can reach close to 70ft. The N-Strike Elite Stryfe Blaster is getting hard to find, dictating it's $69.99 price. That's another reason to make it a priority on your Nerf buying list.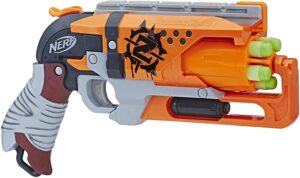 The Nerf Zombie Hammer Shot has a basic design, so many people will overlook it when searching for a Nerf gun to add to their collection. However, skipping this model would be a mistake, as its functionality rivals the more expensive models. One of the key selling points of the Zombie Hammer Shot is that it's comfortable to use for both children and adults. The manual loading mechanism is one of the best on the market, allowing you to insert the foam darts into the chamber quickly and easily.
This model is excellent for building your confidence, especially for new players. Even if you've never held a Nerf gun, you'll become familiar with it in minutes. What makes the Zombie Hammer Shot suitable for kids is that it doesn't require a lot of upper body power to cock the trigger. Like most Nerf pistols, this one has a capacity for only five darts. Still, considering the low price of $15.99 and its universal appeal, it's highly recommended.
Check here for current prices

This imposing gun features an excellent grip that's suitable for both large and small hands. As the stock is short, adults will prefer shooting from the hip, rather than the shoulder. The Doomlands Lawbringer holds up to 12 darts in a fixed cylinder. The loading mechanism takes time to adjust as you load each dart by pointing it away from the target. Reloading cylinders is faster than magazines, which makes the Lawbringer ideal for long battles. This model is suited for close and mid-range combat as it can't hit targets past 70ft. As the spring blaster is non-slam fire, the rate of fire depends on your ability.
With a decent capacity and ergonomics, the Doomslands Lawbringer is an interesting choice for a primary weapon. It might confuse and surprise your enemies on the battlefield since the loading is quicker than expected for such a large gun. Plus, as it's compact and doesn't feature batteries, it's a model suited for children. At $39.99, it's a bit more expensive than similar models but still affordable.
Click here for the laster pricing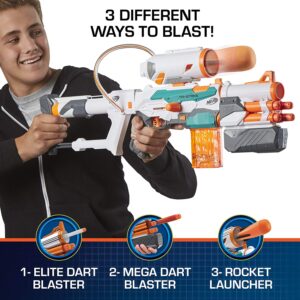 As life isn't a video game, you can't go into Nerf battle carrying more than your primary or secondary weapons. At least, that was the case before the Nerf Modulus Tri-Strike raised the bar. As the name suggests, this model acts like a Transformer, as it combines three weapons in one. You have a basic 10-dart clip blaster, a missile launcher, and a mega dart barrel extension.
To use the Modulus Tri-Strike, you'll need some time to adjust. Once you become familiar with it, this model will open up the possibilities for creative play. Plus, your rivals will have a harder time fighting you. Primarily, because they'll never know how often you'll strike them. While the Modulus Tri-Strike is meant for ages 8+, it may be too big for smaller children. However, the dart blaster component is perfect for smaller hands. Since this model combines three different weapons that can be used separately, its price tag of $69.99 represents good value for money.
Order A Nerf Tri-Strike Here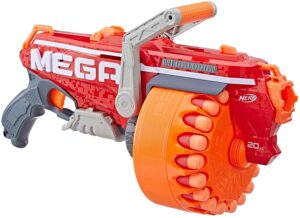 One look at the Nerf N-Strike Megalodon, and you might imagine yourself as sergeant Blain Cooper from the Predator movie, wielding the iconic "Old Painless" minigun. The overall design fits that narrative as the gun looks pretty intimidating. Here, it's all about pure power, as your rivals have no other option but to run away once you start blasting. The shooting mechanism is simple, as the mag will spin when you crank the handle and shoot. With a capacity of 20 mega-darts, this gun will clear the battlefield. Another strong point of N-Strike Megalodon is the range, as it can hit a target from almost 100ft away.
This Nerf gun features a surprisingly simple reloading mechanism, allowing you to add new rounds while moving. But this isn't a flawless weapon by any means, as the shooting mechanism isn't among the fastest. While you'll receive 20 whistling darts in the package, you might want to buy more. The build quality is excellent, even though it's lightweight. Because of its size, the N-Strike Megalodon might be unsuitable for children, but it will be favored by older Nerf players. The attractive price of $39.99 makes it the best-buy among Nerf miniguns.
Click here to order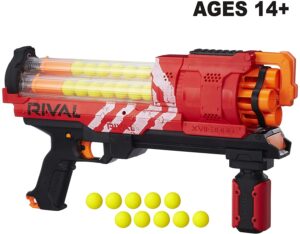 Spring-powered Nerf guns are ideal for primary weapons, as they're reliable, stealthy, and have decent accuracy and range. Though this model looks bulky, it's surprisingly compact. While primarily made for adults, children can also handle it. The Artemis has an impressive 30 ball capacity and uses spheric balls as bullets. As the magazines aren't removable, loading up is pretty unique. You need to expose the opening in the magazine by sliding back the cover to reload. As the springs are compressed during the process, you don't need to use force. What makes this gun so powerful is the slam-fire mode. Blasting all 30 rounds takes only 10 seconds, and it will most certainly scare your rivals. However, Artemis is primarily a short-distance weapon.
With a 90fps, Artemis isn't among the best in the class, but it makes up for that with excellent grouping and accuracy. This makes it the right choice for a primary or bulky secondary option. At $44.99, it comes in two colors, and as it doesn't need batteries, it's an excellent choice for the beginners.
You Can Order One Of The Best Nerf Guns Here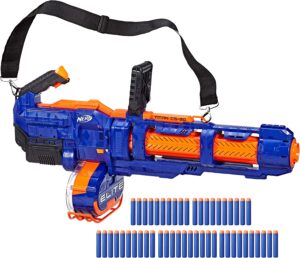 If power is your priority, it's hard to argue against the Nerf Elite Titan CS-50. With a massive 50 dart drum and fully motorized mechanism, this model is unstoppable in large-scale battles. As you fire your official Nerf elite darts, the barrel will look stunning in action. Since this is a pretty big gun, you can use a shoulder strap for increased comfort and accuracy. However, because of its size, children will have difficulty using it.
With the Nerf Elite Titan, you can use both hands for hip fire, and it's easy to do so with this fully automatic gun. That makes it ideal for protecting your fort or attacking opponents. While the rate of fire could be better, it rivals similar Nerf guns. What also makes it an attractive choice is that you can use most Nerf Elite dart clips. Be aware that the batteries are not included, nor are additional clips. The $69.99 price tag is close to similar models.
Learn More About The Nerf Elite Titan Here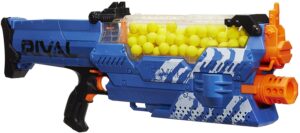 Fully automatic guns are the most popular primary weapons as they have the fastest rate of fire and a large ammo capacity. The Nerf Rival Nemesis is one the fastest Nerf guns available, firing five balls per second. As it holds up to 100 high-impact Rival balls, you won't need to reload it often. Rival balls are very similar to golf-balls, as they feature the same dimples. This gives them better accuracy and muzzle velocity than Elite darts.
Even though it's battery powered and has a high-capacity, the Nerf Rival Nemesis weighs less than similar guns. Its ergonomics are also excellent, although it's still unsuitable for children. The only downside is that this is the most expensive product on our list at $97.51. It's also recommended to buy rechargeable batteries as D batteries are heavy and won't last very long.
Click here to learn more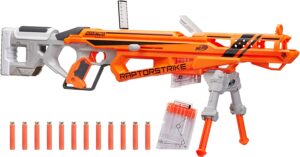 If you prefer battles from long distance, sniper rifles are the best choice. With a bolt shooting mechanism, the AccuStrike RaptorStrike provides both power and accuracy. For added stability, it comes with a tripod. The package also contains 18 Nerf AccuStrike Darts, although the ammo capacity of both magazines is six darts. Plus, you can use regular Nerf Darts, but they're less accurate. As the magazines are transparent, you can easily track how soon you need to reload. This sniper is very accurate, and it doesn't use batteries, making it easier to shift your position. Unfortunately, a scope isn't available.
While jamming is infrequent, if it happens, you can free the Nerf darts by using the top jam door. Although the N-Strike AccuStrike RaptorStrike requires practice to use efficiently, it's a fun sniper rifle to use. In the massive battles where other team members can protect you, it's easy to devastate opposing forces. Even though it's recommended for ages eight and up, younger children could use this $49.99 gun as its so lightweight.
See current prices | Click here
What to Consider Before Buying a Nerf Gun
While the quality of a Nerf gun should be the priority, you should buy one that fits your shooting style. These are the questions you should answer to make the perfect Nerf gun choice:
What's the User Age?
While Nerf guns are popular among kids and adults, they're not one-size-fits-all. Each Nerf gun comes with the recommended minimum user age, but you should also take its size into account. Some Nerf guns are surprisingly heavy and more suited for teenagers or adults. The more powerful Nerf guns can also be dangerous for young kids.
Manual or Automatic?
With manual models, you'll have to reload by hand. These models are usually cheaper, and if the gun capacity is low, you'll be able to load darts quickly. Automatic Nerf guns store ammunition in clips, so the reloading time is much shorter. If you take your Nerf war seriously, automatics should be your choice of weapon, even though manuals are less prone to jamming and easier to clean.
What Type of Ammo?
While the traditional Nerf guns use darts, some models shoot mega darts and high-impact balls. Regular darts are the best choice for smaller kids, or anyone preferring a safer option. The mega darts hit harder, but not to the point of pain. Finally, high-impact balls are spherical and heavier. Therefore, they hit the hardest of all. Note that Nerf guns with high-impact balls should be used only by players aged 14 or up.
Do Your Prefer Close or the Long-Range Combat?
If your playground is small, you'll be happy with the basic Nerf guns and their 10-20ft range. With the most powerful models, you can hit a target that is more than 100ft away.
Low or High Capacity Guns?
Some Nerf guns can hold only six darts in the chamber, while high capacity models fit up 100. Low capacity guns are great for casual fun, but automatic, high-capacity Nerf guns will give you an advantage in intense battles.
What Is Your Budget?
A majority of Nerf guns are very affordable, as the basic models are available for less than $20. While the best models can cost up to $100, most people will be happy with Nerf guns at half that price.