Whether looking for some collectible nerf guns or just some to have fun with. This list will be great for all you Star Wars fans out there who want to show your love by purchasing some star wars merch. So get ready for the top five Star Wars Nerf guns this year.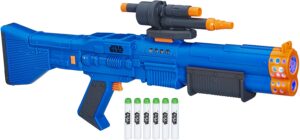 Launch into lightspeed adventures with the authentic movie-styling and battle action of the Star Wars universe. Recreate scenes from the Star Wars saga, and the all-new Star Wars: Rogue one movie, with this blaster that lets you relive all of the moments from the story of good versus evil.
This blaster has a very reasonable price of about $50.00. Have fun and let the force be with you!!!
Click here to buy this Star Wars Nerf Blaster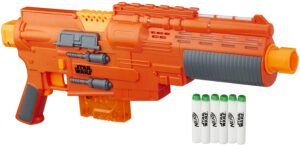 Enhance yourself in the wonderful world of Star Wars and roleplay with this great blaster. Join lands in a galaxy far far away. This blaster originates from the movie rogue one. It comes with six darts but any nerf dart can be used. The darts are placed in a six dart clip and then easily loaded. Now you are ready for action.
The price of this blaster is about $50.00. This blaster will give you lots of joy and is great for some fun times. I hope you like it and may the force be with you.
Click here to order one of the best Star Wars Nerf blasters

This blaster is from the Star Wars show called the Mandalorian. It is a great prop and very well made. The price is about $60.00. This blaster comes with ten foam darts, but any darts can be used. The scope does work but it isn't the best quality. It is easy to load and loads of fun.
In a battle, this gun has very good aim but is not a great close combat weapon. Hope you like it and may the force be with you.
Click here to buy this Mandolorian themed Nerf Blaster

This gun is a great nerf gun it is electric but it is still long-lasting battery wise so is fun to use in nerf wars with friends and family. The batteries are not included. This blaster when fired makes the noises that the blaster in the movie makes which makes it more fun.
It is more for close combat which isn't bad, it also has rapid fire. It comes with 12 darts and a clip that holds twelve darts.
This is an overall great blaster but is more on the expensive side. It is about $115.00. Hope you like it and may the force be with you.
Click here if you want to buy one of the best Nerf blasters from Star Wars

This is number one for its great quality and care put in to create a wonderful toy. This is the same blaster listed earlier but a much nicer version. This has electric noise when fired and has an extremely accurate aim. The detail on this blaster is incredible and is so realistic to the real version.
The blaster is limited so for any collectors, this is the one to buy. The way you load this cool blaster is the exact same way as in the Mandalorian.
But with all these great features there has to be a big price, the price is about $120.00. Hope you have fun battling with this great blaster, and may the force be with you.
Click here to buy the best Star Wars Nerf blaster