Nerf enthusiasts have various preferences, and for some, the only way to truly Nerf is to do it with a sniper rifle. This type of "weapon" is a little more complex to operate, but the enjoyment can be that much greater.
There are many fantastic Nerf sniper rifles available online. The key to finding the best option is looking for the range of the blaster. It should also be comfortable with fast action if you want to get your opponent before they get you.
In this article, we're going to take a closer look at the ten best Nerf sniper rifle options and let you decide which is perfect for you.

This is a no-fuss Nerf sniper rifle. It well-designed and comes with a targeting scope. It doesn't require batteries, but it still packs a lot of power.
You get 12 foam darts in the package, which might seem insufficient, but the quality compensates for the quantity. It's great for kids ages 6 and above.
However, this is one of the best Nerf Sniper rifle options for adults as well. Do you have Nerf gun fights at the office? This can be your winning rifle.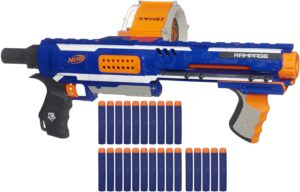 Rampage N-Strike comes with a high-capacity 25-dart drum. Load all the 25 darts included, and you can start shooting!
Slam-fire action allows fast dart blasting, and you'll be able to shoot the darts up to 90 feet It also has tactical rails you can use to customize the Nerf sniper with other accessories sold separately.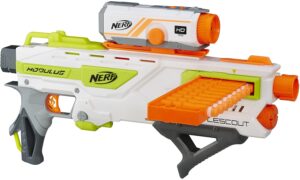 Nerf blasters are meant to be fun, but if you want a glimpse of a real battle, the Modulus Recon Battlescout can bring you a small step closer to it.
It has a mounted 720p HD camera that can record your battles and take photos. It also includes an indexing clip blaster and a 10-dart indexing clip.
Whether you're on a stealth operation or in a close-quarters battle, this nerf sniper is a fantastic choice. Keep in mind that this Nerf sniper needs AAA batteries.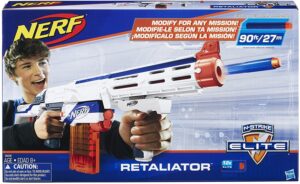 There's a lot to like about the Nerf N-Strike Retaliator blaster. One of those things is that you can modify it in four different ways.
You can also use the barrel extension for long-distance blasting if you're looking for that type of action. Attaching the grip and the stock will also stabilize your shots.
Every attachment is easily removed and put back in place. With 12 foam darts included, you will have everything you need to start the Nerf battle right.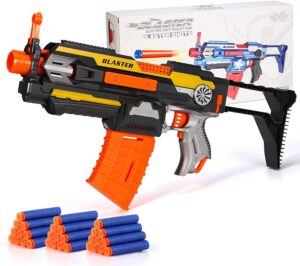 This is a fully motorized blaster with a clip that can hold 10 Nerf darts. It's powered by four AA batteries and can send the darts flying up to 50 feet. It also has a removable buttstock and tactical rail.
You can customize it with all kinds of Nerf attachments as well, though they are sold separately. You get 30 pieces of super-soft foam darts, so no worries about reloads when the battle begins. It's a wonderful gift even for the youngest kids because it is durable and provides excellent value.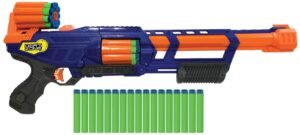 This Nerf sniper rifle comes with automatic revolving drums, which can fire the foam darts up to 80 feet. The loading time is fast, and there are 18 darts included in the package.
Batteries are not required. All you have to do is load, aim, and shoot. Two ammo cartridges come with the rifle too. It's suitable for kids ages 8 and above. This Nerf blaster will not disappoint and is sure to deliver tons of entertainment.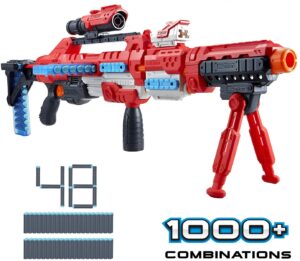 For a truly impressive blaster and one of the best Nerf sniper rifle options, check out XShot Excel Regenerator. It looks massive, but it's not heavy at all.
You get 12 different attachments such as scopes, tripods, dart stocks, and plenty more. You can completely personalize it and enter the Nerf battle with the "weapon" of your choice.
Plus, it comes with a 48 XShot foam dart of excellent quality and durability. Given its size, perhaps it's not best suited for the youngest kids, but those ages 8 and above are sure to have a blast with this Nerf sniper.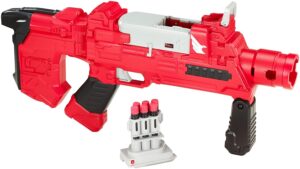 Are you or your child a fan of Halo? BOOMCo has designed a Halo-themed blaster that will make you love the game even more.
This blaster was designed not to jam and prevent you from saving the world from an alien invasion. It comes with six high-quality foam darts.
It also has a vertical loading clip for super-fast reloads. It's lightweight, easy to use, and suitable for kids ages 6 and older.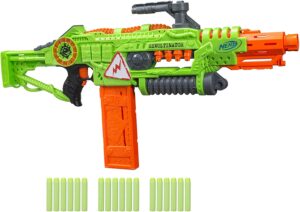 Are you ready to fight in the zombie apocalypse? With the Nerf Revoltinator, no zombie will stand a chance. This Nerf sniper rifle comes with power shock lights and sounds.
It also has a fully motorized blasting. All you have to do is pull the trigger and shoot all the darts in the row. The Zombie Strike Blaster comes with 18 high-quality foam darts. It also has two tactical rails that are compatible with other Nerf Zombie Strike accessories.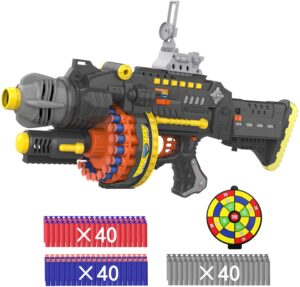 This Nerf sniper rifle has a semi-automatic design – it fires one shot every time you squeeze the trigger. It's motorized and battery-powered. It also comes with 120 extra soft foam darts, which is more than impressive.
You also get a shooting target to practice your aim. The Nerf sniper is super-lightweight, and even kids ages 5-6 can play with it.
Furthermore, it's made from environmentally friendly materials, which makes it an excellent choice for kids. It's a great-looking Nerf sniper rifle and a fantastic gift for any kid looking to take on a "mission."
Take Charge With the Best Nerf Sniper Rifle
Nerf guns are just plain fun. If smaller-sized Nerf guns are not your cup of tea, nerf sniper rifles have the potential to make you think like you're in the middle of a real battle.
The ten best sniper rifles we've talked about in this article are all excellent choices. You can focus on the design, whether you want it to be battery-powered or not, and the number of darts included, among other things. Any choice you make will likely lead to having a great time.