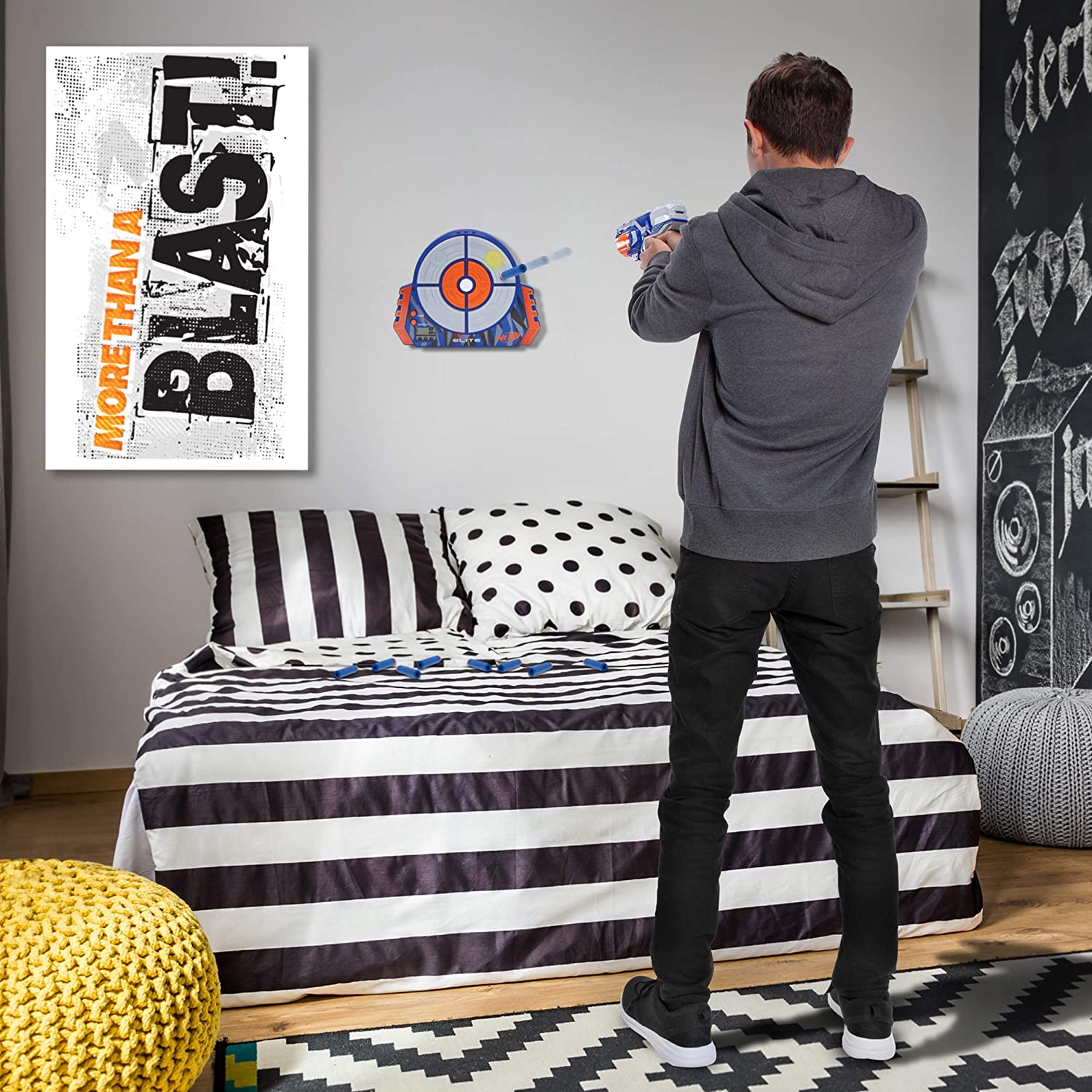 The Best Nerf Blaster Target Sets
Blaster battles guarantee a great time when there are enough people ready for action. However, sometimes you can get the crew together for a massive showdown, but the itch just won't go away. In that case, some target practice might be the next best thing. After all, you'll need those blaster skills honed and your shots never missing the mark once the real blast-out begins.
Nerf target sets can also be enjoyable if you want to compete in sharpshooting with friends or family. But, to make the most of it, the set should be as exciting and fine-tuned as your blaster. That's why we've compiled a list of the best nerf blaster target sets that will provide you with an awesome, friendly competition or the perfect target practice between battles.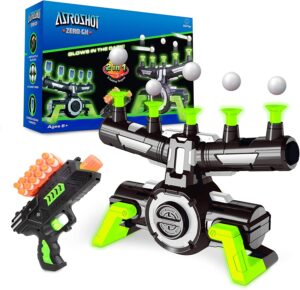 If you are a fan of roleplay, this is your opportunity to be a real space marine, as this target set will take you to the stars. It might be one of the best toy target sets out there, and even adults will have a hard time staying away from it. The main attraction of this set is the space-themed target base with five pedestals. On them, you'll find the more or less standard flip targets, but you'll most likely forget these even exist because this set also features floating ball-shaped targets.
When the base is turned on, the balls will start floating, and you can begin your fantasy shooting session. As if that's not enough, the Astroshot Zero GX set glows in the dark and features a galactic soundtrack that you can choose to turn on or off. And that's not all - this set also comes with a dart gun and 12 soft foam darts.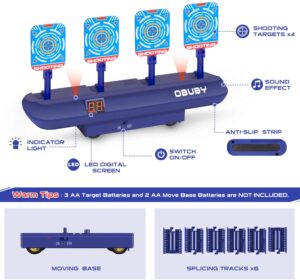 Right from the start, this target set is an amazing addition to your blaster armory. There are four targets in the set, placed on a base board that registers hits and displays the score on an LED screen. Every strike you score will also produce a sound effect so that everyone knows when you're on a roll.
The set also features a track that can make the targets move. This track is divided into six sections so that you can decide on the overall length. Once you place the target base on it, it will slide from side to side, providing an extra challenge. The base is powered by AA batteries that you'll have to purchase separately.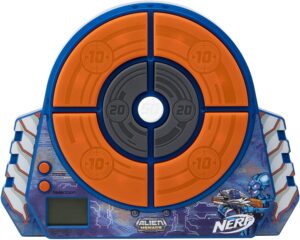 Designed primarily with competitive games in mind, the NERF Elite target comes with three built-in gameplay modes. The target can stand on a flat surface or be mounted to the wall, so you can also get plenty of solo target practice with it. A digital scoreboard is located on the front and can be set up for solo or team shooting.
To turn every hit into a mini-celebration, the target has fully interactive LCD lights and sounds. It's powered by three AA batteries, not included. A special mention should go to the packaging itself, which is marketed as Frustration-Free, meaning it's easy to open. Additionally, the packaging is simple and recyclable.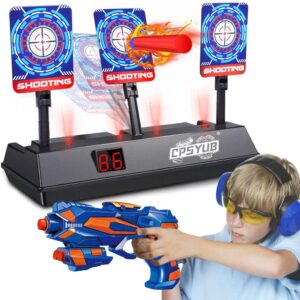 This target set includes three targets on a sturdy base with a digital scoreboard. The CPSYUB target is reminiscent of a real practice range, with the targets falling when hit and raising back up after three seconds. The score is calculated so that when all three targets are hit, one point is assigned to that player.
With this target set, you can sharpen your aim and reflexes in a solo practice session or take turns with friends to see who will get the longest streak. The indicator lights will shine or twinkle depending on whether the target's still standing, and there's a soundboard that plays with every hit.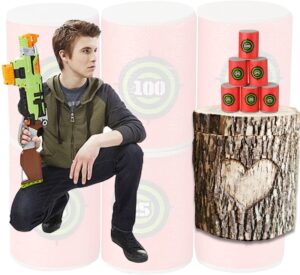 We'll finish off with a much more straightforward, yet awesome, target set. Sometimes, you don't need all the shiny lights and spectacle but might be more in the mood for a simpler experience. This set features 24 target cans made of soft foam and nothing more.
What's so great about this set is its simplicity and quality. The targets are made from excellent, durable material and each one is marked with a different number of points. You can place the targets next to each other or scatter them throughout your room or backyard. Interestingly, while this isn't a powered, high-tech set, it leaves you with the feeling you have had a more serious target practice, which is most likely due to the minimalistic nature of the set.
Get Your A-Game On
Now that you've seen our recommendations for the best nerf blaster target sets, it's time to make use of them and work on that perfect aim. One of the products listed will undoubtedly be the right choice for you, and maybe even getting two at the same time would be a good idea. After all, when it comes to target practice, it's best to be sure.