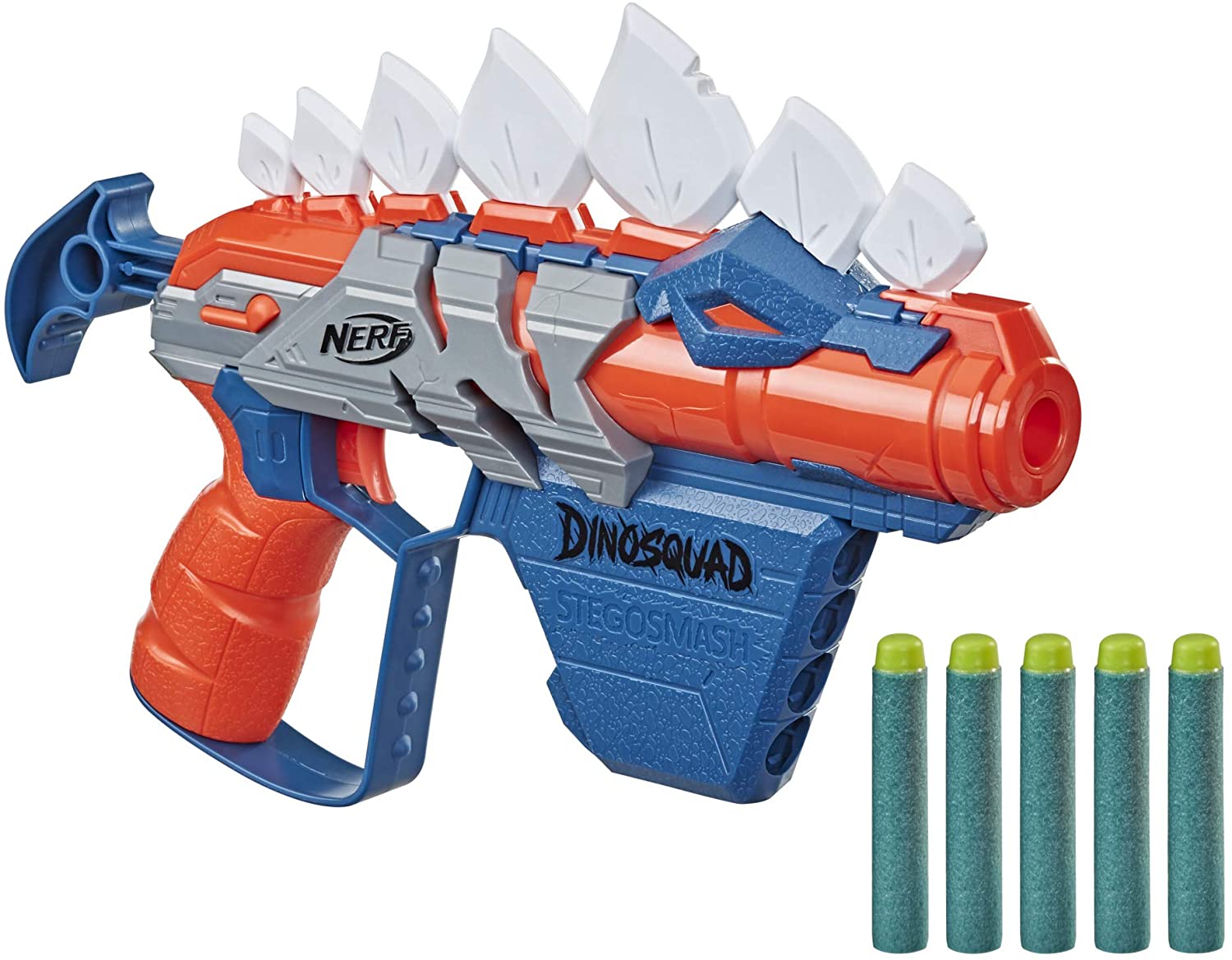 The Best Nerf Pistols for 2021
In all likelihood, one of the first Nerf weapons you probably purchased was a cool rapid-fire pistol. And it wouldn't be a surprise if you did – the handguns are a terrific introduction to Nerf skirmishes and deliver excellent performance as a back-up blaster. Despite their small size, they have a lot of power and can hit distant targets. If you're looking for some blood-pumping action with your friends in 2021, Nerf Pistols are a sure-fire solution.
But with so many options on the market, getting your hands on a good Nerf weapon can be challenging. To make things easier, we've compiled a list of the 10 best Nerf handguns. Each of these pistols will be an invaluable asset during your Nerf battles.
What Are the Best Nerf Pistols in 2021?
Let's dive into our picks for the best Nerf side-arms for this year:
This is a quick-draw Nerf Elite Pistol with a revolving drum. You can fire one dart per trigger pull or shoot all six darts using the slam-fire action. To prime your weapon, just pull back and release the slide. The gun comes with six darts that can reach targets 90 feet away.
The second entry on our list features ample customizability options. There are three tactical rails, a stock attachment, and a barrel attachment. The Elite Commander can also reach 90 feet and includes 12 Nerf darts.
This handgun spells fun for Nerf fans with a bunch of eye-catching details and a neat design. It's made of durable plastic that's been tested for safety. The package includes two wrist bands and, while the pistol itself isn't an official Nerf gun, comes with 30 soft-foam darts and is Nerf-dart compatible.
The cool-looking Fortnite Blaster captures the design of a blaster used in the groundbreaking video game. The Nerf Revolver operates using the hammer-priming action. All you need to do is load four darts, pull the hammer back to prime your pistol, and press the trigger to unleash one dart at a time.
The blaster comes with a detachable scope that can help you shoot more accurately. Plus, it comes with eight official Nerf darts with tried-and-true quality and performance.
The DinoSquad Stegosmash pistol is an easy-to-use handgun that serves as a great introduction to the world of Nerf battles. It requires no batteries and comes with five official elite darts. There's also the on-board storage that can hold four darts, allowing you to reload quickly and remain in your matches longer.
This is yet another compact Nerf Elite Pistol that packs a powerful punch. The Strongarm Elite Toy Blaster lets you strike targets from 90 feet away. It comes with a barrel that flips to the side, enabling simple loading. The gun holds six Elite foam darts with hollow tips that have been tested for quality and performance and are designed to cover large distances.
The package is recyclable and easy to open, eliminating any delays in getting into the battle.
The Nerf Ultra Four Dart Blaster is designed to cover extremely long distances. More specifically, you can hit targets from 120 feet away, which is a feat most Nerf handguns can't accomplish. On top of that, the weapon is highly accurate, and the reload action is simple. The darts are made of lightweight Ultra foam and have a specially designed tip for improved accuracy.
This is a five-shot Nerf Revolver with unique "splatter" coloring. The rotating drum loads from the front, and you prime the gun by pushing the hammer down. In addition, the item comes in a simple, recyclable package.
The Ultra Five Blaster has a slightly different design from the Ultra Four Dart Blaster. But the weapon retains the same cutting-edge shooting features. The maximum range is a staggering 120 feet, and the darts are made of lightweight foam.
The final entry not only features a unique design but allows you to choose your curve during battles to shoot around objects. This is because the muzzle can rotate 360 degrees and let you blast rounds right, left, down, or straight to gain a strategic advantage. There's also a trigger lock, spring-action handle, and the pistol fires ammo at 90 FPS.
Let the Blasting Begin
All 10 of these Nerf Pistols can give you an edge over your opponent. All you need to do is decide on how many rounds you'll need, the most comfortable design, and what customization features will work best for you. Once you've made your pick, it's time to get your Nerf wars underway.