Playing with a Nerf blaster is synonymous with having a great time. These "guns" fire foam darts, which can be annoying but safe. In the last 30 years or so since the first Nerf blaster entered existence, things have significantly changed.
You can get almost any kind of Nerf blaster on the market in terms of size, features, and price. If you have an Amazon account, you'll be able to find items not easily obtainable elsewhere.
That is why, in this article, we want to review the five best Amazon exclusive Nerf guns. We'll go into details about what each Nerf blaster brings to the table and let you pick the one you like the most.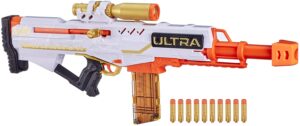 If you're looking for endless fun with a blaster, the OKK Toy Blaster can be the perfect option. It looks like the weapon Captain America would carry – if he actually needed one, of course. It's not a lightweight toy by any means, though.
It weighs 4.30 pounds, so it's not suitable for younger kids. The recommended age is 8 and above. The best part is that this is one of the best Amazon Nerf guns that adults can enjoy. It's a truly powerful blaster with a plethora of fantastic features.
The gold accents will make any fighter stand out when the battle begins. The original Nerf foam darts are also gold-colored for this special edition only. The firing rage is truly impressive, too – darts will fly up to 120 feet, so be careful and deploy protective eyewear.
You also get FireVision sports gear with the Nerf Ultra Pharaoh Blaster, which glows when thrown. Overall, this is a fantastic option for anyone looking to have hours of uninterrupted fun.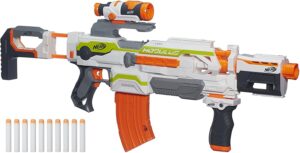 When browsing through Amazon Nerf guns, the Nerf N-Strike Modulus ESC-10 Blaster will likely catch your eye. This blaster features an amazing design and is ideally suited for any type of mission or battle.
The Nerf Modulus system allows excellent customization options that can create up to 30 fun combinations. You can add a targeting scope, drop grip, storage stock, or dual-rail barrel.
Once you build the ideal blaster, all you have to do is aim and shoot at the target. The high-quality foam darts will fly up to 95 feet, so choose your fighting location accordingly.
Given its size, this is a relatively lightweight Nerf gun. Kids aged 8 and up can lift the 3.5-pound toy gun without much struggle.
However, you will need a pair of AA batteries to operate the Modulus ESC-10 blaster. The gun also has a safety feature that will prevent the gun from powering up by accident.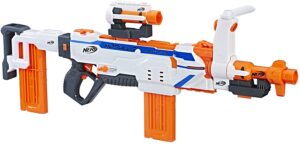 Another great Nerf gun from the Modulus series is the Regulator. At first glance, this blaster doesn't have any standout features. This optical illusion stems from its minimalistic design.
Once you have it on your hands, it becomes clear why it's one of the best Nerf blasters available on Amazon right now. Nerf Modulus Regulator features SwitchFire technology allowing you to choose three different firing modes.
All you have to do is flip the switch and choose the required mode. The continuous-fire mode is entertaining and will give you an advantage in every battle. The Modulus Regulator is super customizable with its two-barrel scopes, storage stock, and swivel handle.
The barrel scopes differ in length and can be used in more ways than one. You get 12 dart clips with this blaster, plus the 24 Modulus series Elite darts.
When you use all of your darts, the indicator will blink, letting you know it's time to reload. Granted, that means this gun requires batteries. More precisely, four C alkaline batteries, which are not included in the package.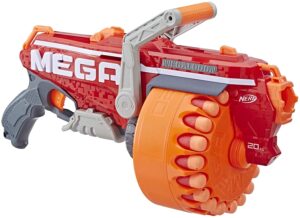 It's nearly impossible to search for the best Amazon exclusive Nerf guns and not catch a glimpse of the Megalodon. This blaster stands out in design and in every other way.
You don't need batteries for this Nerf gun. All you have to do is crank the impressively designed handle and start shooting darts. The 20-dart rotating drum is something special as it will give you the firepower you need when entering the battle.
The darts will land at a distance of up to 85 feet, which is the range you're looking for. The darts are worth mentioning too. The 20 pieces included in the package are Official Nerf Mega Whistler darts.
As their name implies, they make a whistling sound as they fly through the air. They're tested and approved for performance quality. This Nerf blaster is best suited for children aged 8 and above, and it weighs 2.2 pounds.

With this Nerf blaster, we're going back to the origins of the toy. Hasbro, the original manufacturer, made it. It's undoubtedly sturdy and built to last.
With Nerf Alpha Strike Wolf, there are three quick steps to ultimate fun - load, prime, and fire. No batteries are required for this Nerf gun, which saves you both money and time.
You also get a targeting scope with this blaster. It will help you line up your shots and never miss your target. The packaging contains 12 official Elite Nerf darts, which are tested and approved.
The foam is high-quality, flexible, and the darts have hollow tips. It's a lightweight Nerf gun that does everything you expect a Nerf gun to do. However, it comes with the bonus of durability and premium design.
Get Your Best Nerf Gun From Amazon
Let's face it – Amazon has pretty much everything you might need. It might not be your go-to place for some products, but when it comes to Nerf blasters, it's the best online marketplace.
The five Nerf blasters we've talked about in this article are all of exceptional quality and durability. The prices vary, and they fluctuate, as it's often the case on Amazon.
They are for sure some of the best Amazon exclusive Nerf guns, and hopefully, you'll find the one right for you.