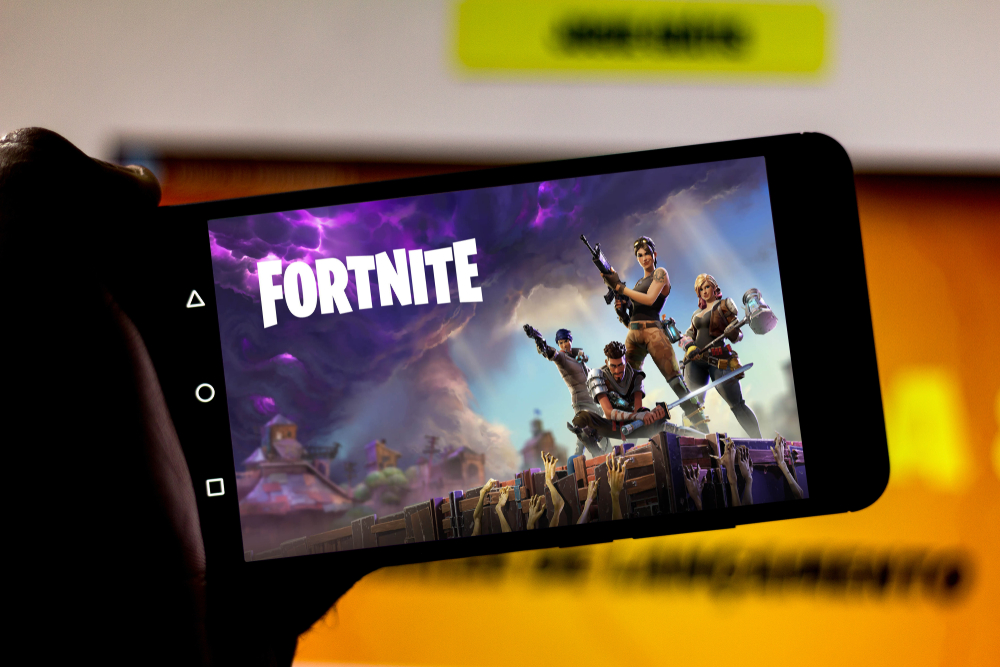 If you're a fan of Fortnite, you might be interested in recreating the iconic battle royale in your backyard. If you're also a fan of nerf guns, we might just have found the perfect combination: Fortnite-themed Nerf guns.
In this article, we've reviewed the five best Fortnite guns on the market. If you want to take part in the action or find the perfect present for your Fortnite-obsessed teenager, we've got your covered.
The 5 Best Fortnite Themed Nerf Guns Reviews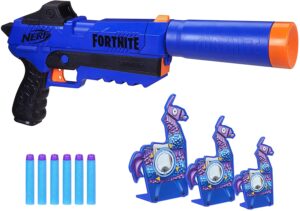 If you want something smaller and more manageable, this is a great first choice. This pistol replica with a muzzle attachment will help you become a crack shot in no time.
Review
The Sp-R blaster is one of the best and most popular on the market, and for good reason. The pistol comes in blue with orange markings. When it comes to design functionality, the muzzle can be detached and serves to slightly silence the firing, although it's reported that the gun is still relatively loud. Still, it's an excellent present for someone starting with Nerf guns. This Nerf gun is not pistol-sized, however, so expect it to be used two-handed.
The internal clip can hold three darts, and the gun comes with a total of six darts, allowing for a one-off purchase to start your Nerf experience.
The product also comes with three llama-shaped targets to practice aim when human targets aren't around.
Overall, the pistol Fortnite Nerf gun is a great gift for a Fortnite-themed Christmas.
Pros:
Easy to use

Comes with darts and targets

Great first present
Cons:
Louder than expected

Larger than pistol would suggest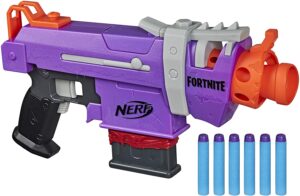 This compact automatic blaster takes all the fun of Nerf guns and Fortnite gameplay and combines it in one great package.
Review
This classic-looking SMG takes inspiration from one of the most memorable Fortnite weapons. It comes in a cool purple color with the classical orange tip. This SMG replica's automatic firing mode ensures relatively easy use, and we have had no problems operating it. The darts are fairly accurate and travel a fair distance, making this gun great for outdoor activities.
The detachable gun clip stores up to six darts, and that's exactly how many the gun comes with. However, these darts can be a bit softer than usual, which may cause some jamming issues with continual use. Still, replacement darts are quite easy to obtain.
Overall, this is a great entry-level product for those that prefer automatic fire rates. All you need to do is get the batteries to power the motor.
Pros:
Simple to use

Automatic fire mode

Compact
Cons:
Softer darts

Can jam after prolonged use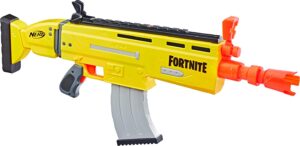 If you want to get the authentic rifle experience from a Nerf gun, with a dash of Fortnite flare added, look no further than the AR-L Elite. This fun toy is sure to bring out your more competitive side.
Review
With amped-up power, the AR-L Elite is not for the faint-hearted. The yellow gun can comfortably fit into your hands and is quite sizable compared to the more compact Nerf guns. Overall, we had no problems handling the weapon. The motorized fire mode makes sure your darts travel fast, but accuracy seems to be of secondary consideration. If you're trying to hit a small target from distance, you'll need a lot of practice and a lot of luck. Still, its fast fire rate and decent sized clip make it incredibly fun to use. Do note that the motor does take a bit of time to get going, so you need to prepare beforehand.
The gun comes with 20 darts and can hold 10 in a clip at once. It also includes flip-up sights to promote greater accuracy, if we're unsure how useful this is, as we had enough fun without them. Ensure you properly close the access doors and slot the clip in, as the gun's safety features make those necessary for the motor to start.
Overall, the AR-L Elite is a fun-filled Fortnite Nerf gun and a perfect gift for the Fortnite fan in your family.
Pros:
Automatic fire mode

Holds 10 darts in the clip

Comfortable and safe to use
Cons:
Low accuracy

Takes time to start up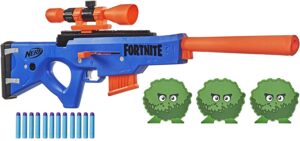 For the sniper rifle enthusiasts among you, this powerful bolt action blaster will fulfill all your needs, combining fun and accessibility for Nerf blasting your foes.
Review
Sometimes bigger is better. This sniper rifle replica comes in a cool blue, with the traditional orange muzzle. The gun's sights are decent, and we're sure it's trying to be as accurate as it can be. The bolt action firing makes for a cool and relatively authentic experience while using the gun. The sights can be adjusted or removed, adding to the authenticity of the weapon.
The gun comes with a six dart clip, but no spare darts, unfortunately. Still, if you're accurate enough, they should be more than enough. The set also has three bush targets included so you can practice your aim. Do note that its larger size and sturdiness make it a bit more suitable for older children.
Overall, we think this gun provides a great experience if you want a more long-range weapon for your Nerf gunfights.
Pros:
Authentic bolt action

Good accuracy

Adjustable sights
Cons:
No spare darts

Slightly heavier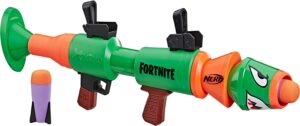 If you want to bring some heavy artillery to a gunfight, a rocket launcher is a great choice. This Nerf Rocket blaster will make sure you have plenty of fun aiming your rocket darts from afar.
Review
If you're after the ultimate power trip, this is the product for you. The rocket launcher replica comes in a happy green with a snarky face on the front, making it a fun weapon to look at. It's relatively large in size but not in any way cumbersome to use. However, the pump-action mechanism means the length of your range will depend on your strength. For that reason, this toy might be more suitable for adults than children.
The launcher comes with two rocket-shaped darts, and you might want to take care of them, as replacing them can get expensive. However, that doesn't factor in the enjoyment you can have with this gun, so go ahead and blast your enemies with this fun Nerf blaster.
Pros:
Rocket launcher

Suitable for adults

Great fun factor
Cons:
Range depends on user strength

More expensive to replace darts
Blast Your Enemies Away
And there you have it, our five best Fortnite Nerf guns. Each of these will be a great gift for your child (or yourself, if you want to have some innocent fun). Nerf guns are fun, simple to use, and we're sure you'll get great mileage out of them.
Have fun blasting, and let us know which gun you bought in the comments section below.