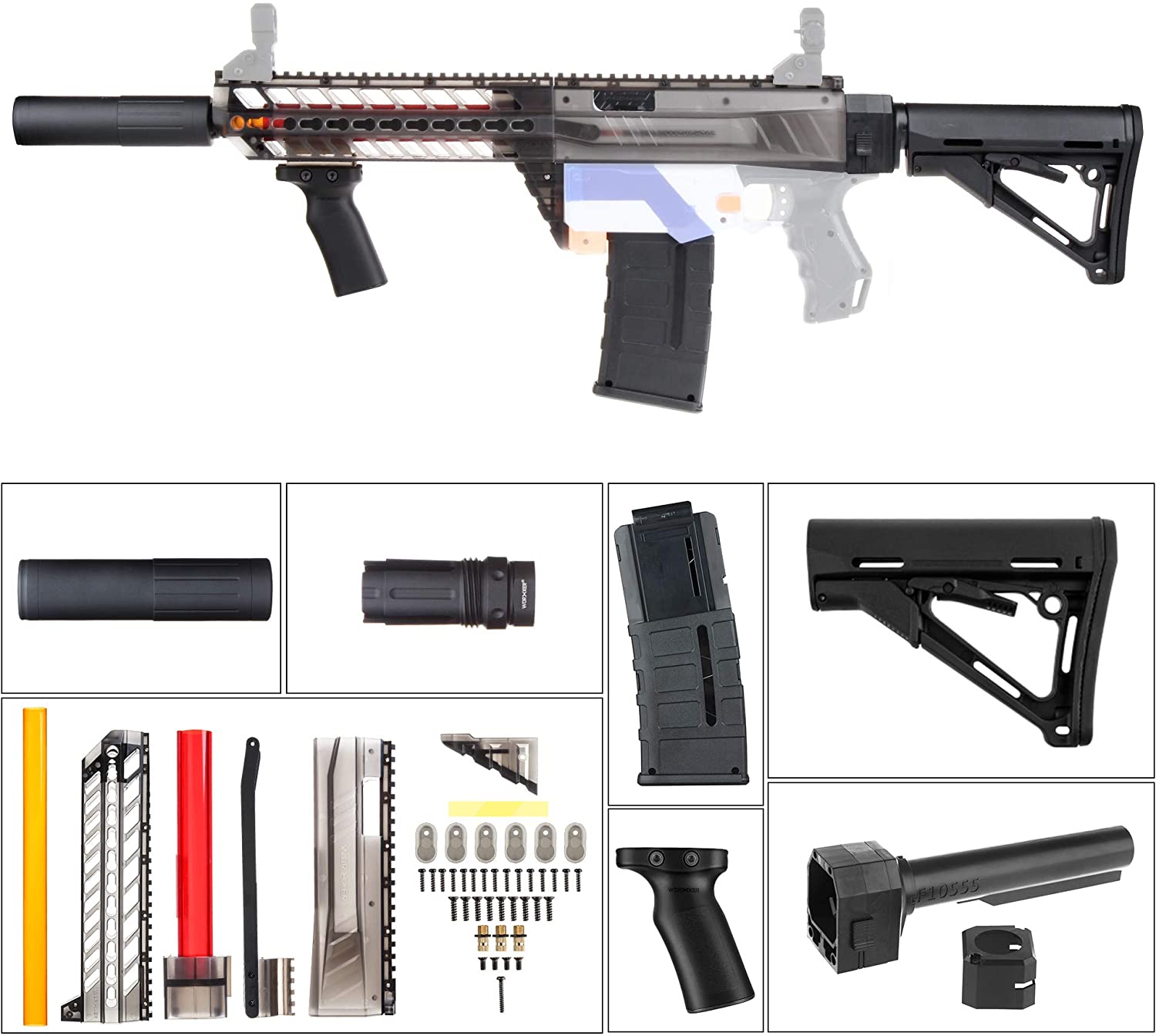 The Best Nerf Mod Kits on Amazon
Shooting your way through a backyard Nerf battle can be a great way to have some fun in a safe setting. Before each skirmish begins, players try to choose the right weapon and side-arm for the conditions. Some Nerf guns are better suited for close-quarter combat, whereas others give you the edge in long-distance shooting.
To enhance their chances of success, a common pre-game preparation is fitting a weapon with the appropriate mod (or modification) kit. Mods can either enable you to shoot more accurately and reload faster or simply make your toy gun more stylish, which is also a neat addition.
To help you choose the right mod items, we've come up with a list of the Best Nerf Mods on Amazon. Check out all the cool modifications you can make on your guns right here.
What Are the Best Nerf Mod Kits You Can Buy in 2021?
Here are the finest choices when it comes to Nerf Mod Kits:
If you want to decorate your toy gun and make it look cooler, this collection of stocks, barrels, and other parts is a perfect choice. The connective part of the side patch and shoulder stock is built from ABS materials, whereas the straight-line pipe features polycarbonate polymers (PC). The decorative part consists of aluminum alloy, and all the other components are constructed from environmentally friendly PLA (polylactic acid) plastic.
Considering the PLA construction, the kit needs to be shielded from direct sunlight, heat, and other forms of high temperatures to prevent deformation. The item is ideal for players aged 14 or over.
The Worker F10555 is one of the finest Nerf Rival Mod Kits when it comes to its customizability options. Some of the most useful parts of the kit when it comes to performance are the pump-action and iron sights, but all the other components will also fit in nicely with your weapon. The kit works with Nerf Rival Phantom Corps Helios XVIII-700.
The accessories are made from PLA materials, too, meaning that you'll need to avoid exposing the mods to high temperatures, otherwise deformation may happen.
Now let's take a look at a detail-packed tactical vest. It's a personalized and stylish model with plenty of room for all of your battle tools. The vest is an outstanding addition to outdoor Nerf skirmishes and is one of the best-equipped Nerf Rival Mod Kits. There's the cinch pack, along with useful protective goggles that will keep eyes from harm.
The tactical vest kit comes with one vest, a face towel, a mesh pocket for extra toys, 30 refill darts, and a wrist strap. This gives you plenty of firepower for your Nerf wars.
Next up is another remarkable mod kit produced by JGCWorker. The attachments of this equipment are a perfect match with the Worker Swordfish or Nerf Stryfe models. It comes with a 12-round Nerf magazine, and all the components feature high-quality materials. It's excellent for outdoor playing, and it's best suited for players aged 14 or over since the installation necessitates some assembly skills.
Here's a similar mod kit that's also compatible with the Worker Swordfish and Nerf Stryfe. The design is precise, which ensures high performance and practicality and provides faster and more accurate shots from long distances.
The kit features a great Kriss Vector structure, which comes in handy in outdoor games. In addition, the components are made of durable ABS plastics.
Another kit that makes your Nerf gun stand out from the crowd is this B-Type Worker kit. It works with the Nerf Zombie Strike HammerShot and is composed of excellent PLA materials. However, because of this, you need to avoid heat exposure or the product can be deformed.
The item may not be ideal for players younger than 14 because some assembly is required. Each component is separate and will need to be connected for the unit to function.
This product is one of the most useful Nerf Mod Kits for covert players. It allows you to upgrade a Modulus blaster with three key accessories for stealth operations. The proximity barrel and red-dot sight provide more accurate shooting, whereas the pivot grip contributes to the gun's stability while shooting.
Here's another entry from the Modulus line of Nerf accessories. This one also works for the Modulus blaster and includes a long barrel and long-distance scope for better precision. Plus, the folding bipod mount allows you to fire steadily. The kit comes with simple instructions, enabling you to mount your Nerf gun on the mod in just a couple of minutes.
The Little Valentine is a great choice if you want to bring extra backup firepower to your Nerf wars. The wrister and the waist-bag can hold a lot of ammo, and the dart storage loops can hold up to eight darts. You also get 10 suction darts and 10 elite darts that work with all N-Strike Elite blasters. The materials are also durable and safe to use.
If you want to be fully prepared for your Nerf game, there's no going wrong with this tactical vest. It includes a bunch of cool items, such as 20 refill darts, a reload clip, wrist band, and tactical face mask with protective goggles. There's also a dart pouch that can fit up to 30 rounds.
The tactical mask might be the highlight of this mod kit. It's constructed of durable ABS plastic and comes with an elastic band. The protective lens shields the player's eyes and helps them locate their target more easily.
Amp Up the Fun in Your Nerf Battles
As you can see, these accessories can boost your Nerf shooting performance and help you come out on top. So, don't stick to the default version of your weapon. Choose the appropriate equipment from this list of the Best Nerf Mods, depending on what features of gameplay you want to enhance. Once you've added your mods, you'll become much better at the game, and experience even more thrills.