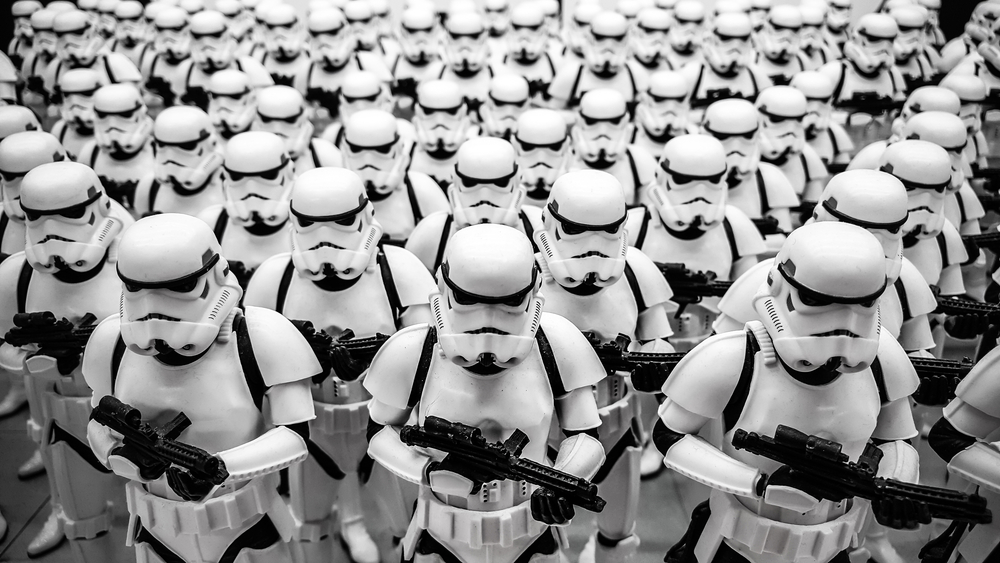 We hope you like our guide to the best Star Wars nerf guns. If you're a fan of Star Wars, then you'd no doubt be interested in taking part in some intergalactic gunfights. Fortunately, there's just the product for you: Star Wars Themed Nerf guns.
In this article, we've selected some of the coolest Star Wars Nerf guns currently available. With our helpful guide, you'll be able to find the perfect Nerf gift. Or a blaster that allows you to lead the resistance.
The 5 Best Star Wars Themed Nerf Guns Reviews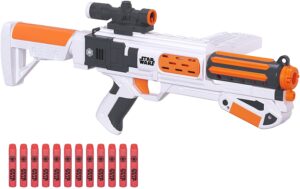 If you're looking for one of the best blasters to take to your Star Wars party, look no further than this fantastic deluxe gun. The Episode VII blaster will make sure you get plenty of action.
Review
This toy is a testament to how a few small adjustments can make your experience that much better. The clip that is on this blaster is situated to the side, allowing for a considerable reduction in the blaster's length. This makes it a lot easier to handle and reload the clip when needed. In terms of reach, this blaster has an impressive range of 65 feet, making for a reliable outdoor blaster.
The gun comes with 12 darts for the clip, so make sure you make them count. You also have a detachable scope to improve your accuracy.
Our only gripe is that the blaster's stock could be slightly longer or be adjustable to the user's size. Granted, it is possible to replace this stock with a longer one, but that does require quite a bit of tinkering.
Pros:
Compact
Comfortable to use
Holds 12 darts
Cons:

For those of you into something more long-range, this blaster will most certainly fit the bill. Although more of a costume piece, it still works wonderfully as a fully-operational Nerf gun.
Review
As a great collector's item, don't underestimate this toy's functionality. The Glowstrike is an easy-to-use blaster with all the bells and whistles you need in a Nerf gunfight. The most significant feature of this model is the amount of customization you get right out of the box.
The blaster holds four additional darts in its stock and comes with eight darts in total, allowing for easy refills. Aim-wise, the scope on top can be adjusted, or detached, for extra ease of use and accuracy. The blaster also comes with a barrel extension to further enhance your Nerf gun experience. Note that the stock is likewise detachable, allowing you to choose between a light blaster or a heavy-duty one.
Overall, this is a good, visually appealing piece, although some other Star Wars Nerf guns have better performance.
Pros:
Authentic look
Customizable
Holds extra shots
Cons: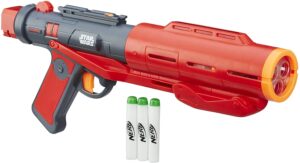 The Imperial blaster is an excellent choice for those who want to shoot rapid-fire darts. In that respect, the pump-action death trooper blaster will provide hours of fun.
Review
This toy is a great first buy for your Star Wars Nerf gun collection. Coming in a vibrant red with grey undertones, the blaster showcases a classical Star Wars blaster look. The pump-action firing mode allows for the quick and easy shooting of three darts at a time. This will ensure that you hit your intended target, as well as some collateral enemies to boot. We had plenty of fun with this blaster, and its relatively small size makes it suitable for children of all ages. The blaster has laser sound effects that will make you feel like you're right in the Star Wars universe.
What's more, the darts glow in the dark, adding to the enjoyment when you're using this gun at night or indoors. The blaster doesn't come with spare darts, however, so you'll have to purchase more if you want quick reloads.
Pros:
Simple to use
Suitable for children
Laser blaster sounds
Cons: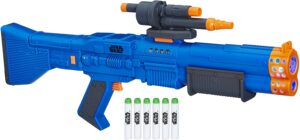 If you're looking for some older-fashioned fun, the Chewbacca blaster is sure to bring some fond memories flooding back.
If you want to go old-school, you should consider buying the Chewbacca Nerf Bowcaster. You can find that one here.
Review
The Chewbacca blaster packs quite a punch, and surely won't disappoint. This cool blue Nerf gun is a heavy-duty addition to your toy arsenal. The blaster fires two glowing darts at once, with a range of up to 75 feet. A great option for outdoor activities, this powerful gun also has a hidden stock to store darts in, making for easy reloads, mid-fight.
The blaster comes with six darts, and has a handy, detachable scope so you can line up your next shot before firing. The gun also has authentic sound effects, taking your Star Wars Nerf gunfight to the next level.
Overall, we've had bags of fun while using this blaster, and you will too.
Pros:
75-foot range
Great sound effects
Hidden compartment for easy reload
Cons:
Back compartment can get flimsy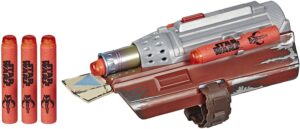 If you're enjoying watching The Mandalorian, then you might be interested in a slightly stealthier Star Wars Nerf gun to surprise your opponents. This rocket gauntlet brings The Mandalorian to your next Nerf party.
Review
If you're looking for something different, this gun is definitely for you. Unlike the regular Nerf blaster, this is a dart-firing gauntlet. The gauntlet is made to fit on your wrist comfortably, allowing for incredible ease of use. The darts shoot out at an incredible speed, making for one of the fastest Nerf weapons yet. All you need to do is prime the dart in the blaster, aim, and press the fire button to release.
The gauntlet comes with six darts, can fire one at a time, and store an additional two darts, one on each side of the gauntlet.
Unfortunately, this gauntlet is a bit too small for an average adult, so best to leave this purely as a gift for kids or a collector's piece.
Pros:
Easy-to-use
Very fast
Cool-looking
Cons:
Nerf This
If you're looking for the best Star Wars Nerf guns, any of these choices are a great place to start. The Star Wars universe is exciting, and we're sure you'll have plenty of fun taking these guns for a spin during your next party. They make excellent collection pieces and even better presents for devoted Star Wars fans.
May the Force be with you, and have fun fighting. Let us know which of the products listed you liked the most.