Looking for the best X Shot blasters? Having heated blaster battles is an awesome experience every time, and you might want to get a bit of an advantage over your opponents. To do this, you'll need a quality blaster held firmly in your grip, to make sure your tactics give you the upper hand. With all the adrenaline and fun involved, blaster battles can make a whole day pass in an instant.
If you're planning on a blaster battle royale or want to face off with a couple of friends, X-Shot blasters are your best friend. Whatever the setting is, remember that those who fire the most darts and hit the most faraway targets come out on top. To become a true master of the blasters, check out our selection of the best X-Shot blasters.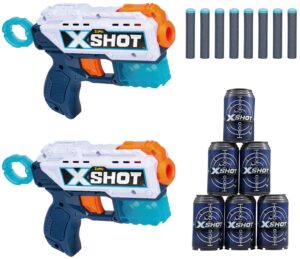 The Kickback is a small blaster that packs a powerful punch. It can shoot targets up to 90 feet away. This is a one-handed blaster, so two of them can be dual-wielded for maximum impact. There's the slide back function that provides an actual kickback when firing. For a fast reload, the blaster has a dart storage area on the bottom.
It's best to combine the awesome dual-wielding action with a good cover and plenty of movement. It'll be easy to hit your mark every time, but you must be quick on your feet to avoid counter-fire. In each package, you'll get two X-Shot Excel Kickback blasters, six plastic targets, and eight foam darts.
Click here to order one of the top X Shot Blasters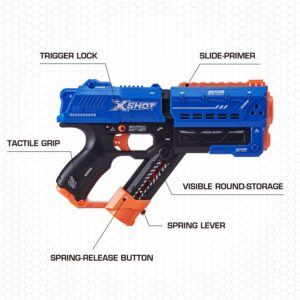 This one-handed blaster is designed for maximum performance. It's high-impact dart balls can travel as fast as 100 feet per second, and the Chaos Meteor holds six of them. The storage is designed so you can see exactly how many rounds are left in it. Its tactile grip will ensure ease of use, and the trigger lock will prevent accidentally wasting ammo. This blaster is extremely accurate and robust, with a slide primer for rapid reloads. It is a perfect blaster for charging into the opponents – it's fast, high-impact darts will have them running in no time. The package contains two X-Shot Chaos Meteor blasters, 24 dart balls, and an Instruction Manual.
You can see the latest price for the Chaos Meteor Blaster here.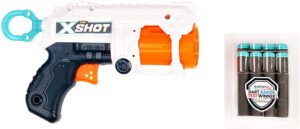 The rotating barrel of this blaster allows you to shoot four darts one after the other. This blaster has high accuracy and can hit targets 90 feet away. The barrel rotates automatically to deliver a rapid-fire action. The Fury 4 is a quick, powerful, and easy to use blaster, with darts that have an excellent reach.
Although it's one-handed, the blaster is so stable that the high blasting rate won't diminish your accuracy. Use it for fast, pray-and-spray charges to catch your opponents off-guard. In each package, you'll get the X-Shot Excel Fury 4 blaster and eight foam darts.
Click here to buy one of the best X Shot blasters around.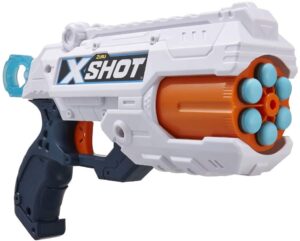 The Reflex 6 blaster has a tactile grip that will make it easy and comfortable to hold. With its's automatic rotating barrel, it can blast six darts in rapid succession. With a primer that's very easy to use and the rapid-fire trigger, this blaster is a force to be reckoned with. It is a one-hander, with darts that have a reach of up to 90 feet.
The grip design means it fits your hand perfectly, and even when firing six darts at once, the blaster will hit the mark with great accuracy. If you place your shots well, you could even take out several targets at once. You'll get the X-Shot Reflex 6 blaster, eight foam darts, and three plastic targets in the package.

This is a powerful two-handed blaster that can hit targets up to 80 feet away. It has an awesome design, that of a sniper combat rifle. The extended pipe and the shoulder rest make it highly accurate and stable. With expertly designed grips for both hands, you'll be sure to never miss the mark when pressing the light trigger. There's also a trigger lock button to make sure you don't misfire one of eight darts that fit into the chamber.
This blaster isn't made for rapid-fire, but rather for well-placed, precision shots. With the right tactics and focus, you'll be able to strike from the shadows and retreat before they know what hit them. The X-Shot Max Attack blaster comes with one ammo chamber and 24 foam darts.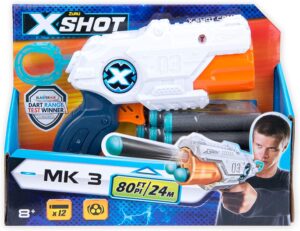 The MK 3 has a prime firing mechanism to blast darts up to 80 feet. It has a rotating barrel that can spew three darts one after the other. With a tactile grip and a rapid-fire trigger, the blaster gives speed and agility to the attack. This is a quick, accurate, one-handed blaster for those with lightning-fast reflexes. Use it tactically in combination with fast-moving and covers, and you'll come out on top in every blaster battle. The X-Shot MK 3 package includes the blaster and 12 long-range foam darts.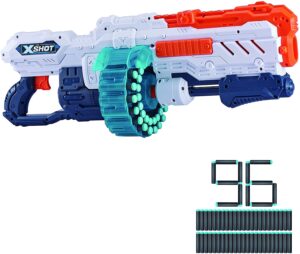 This blaster has a rotating capacity barrel that takes 40 darts. It has great firepower and can reach targets up to 80 feet away. The barrel is detachable, and together with the pump-action, it will give you excellent accuracy. This is a two-handed beast of a blaster, perfect for taking down multiple targets. The Excel Turbo Advance has won the award for the best performing blaster in the dart zone. It's stable and robust, with amazing grips for both hands to make it even more accurate. When they see the insane ammo capacity, your opponents will know what's coming. Included in the package is the X-Shot Excel Turbo Advance blaster, the Capacity barrel for 40 darts, and 96 foam darts.
Blast Away
X-Shot blasters are made with fun and the best performance in mind. That's why they have a unique, excellent design and top quality materials and mechanisms. You can see a comparison of the X Shot Blaster vs. the Nerf blaster here.
To make sure the fantastic dart shooters get into the hands of everyone who enjoy the excitement of a good blast-out, the expertly made X-Shot blasters come at great, affordable prices.
Don't let another day go by without the finest blasters the market has to offer. Get your hands on one of the best X-Shot blasters and prepare to enter the battleground like a real blaster commando.