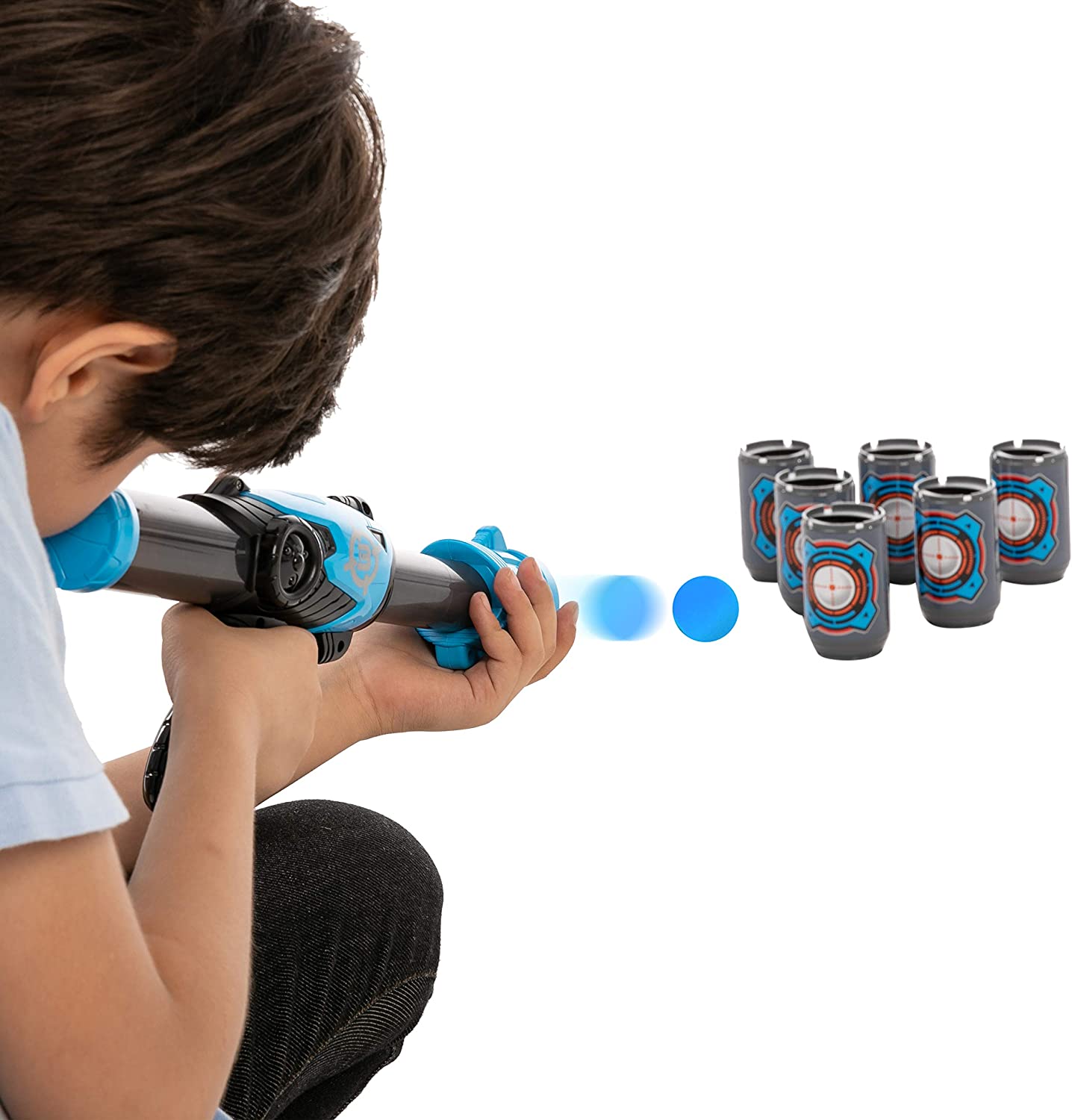 Best Foam Ball Popper Guns
If you're looking for a special birthday present for your kid (or, let's be honest, yourself), a foam popper gun might be an excellent choice. One of the main reasons why people love buying these items is that there are few safety concerns. The weapons use ammunition made of soft materials that don't pose a threat to the players. Best of all, they are extremely fun and whoever gets the chance to play with one is bound to have a blast.
To help you choose the right one as a gift or for yourself, we've made a list of the best popper guns you can find in 2021!
What Are the Best Foam Poppers on the Market?
With so many foam poppers online, finding the perfect weapon can be time-consuming. Luckily, you can consider the following seven versions and narrow down your search:
This blaster set comes with two foam popper weapons and 24 foam balls. It's available in two colors (as are the balls), features two neat clip loading boxes, and includes six shooting targets. All components feature eye-catching designs, and the guns work great for outdoor or indoor sessions.
The weapons feature lead-free ABS plastics that meet U.S. manufacturing standards. Plus, there's no need to worry about sharp corners or edges that could harm the user.
Here's another set of two foam blasters. This one contains 20 orange and 20 green foam balls, and each of them is soft enough not to leave marks or cause injuries. Best of all, the blasters are user-friendly, and even five-year-olds can load and fire the guns easily.
The Atomic Power Popper works great in all environments, whether indoors or outdoors. It comes with 12 pieces of soft foam ammunition that can hit targets from 20 feet away. Thanks to the pump action, the balls will launch much faster than many other models. In addition, no batteries are required to power the toy gun.
Now we come to a popper gun produced by JOYIN which includes two of the best foam poppers, 24 balls, and a target stand. The guns themselves come in two color themes. They can hold up to 12 rounds at once and are 20 inches long.
The materials are child-safe, given that the weapons are made of lead-free ABS plastic. There are no sharp parts that can hurt the players, but the toy guns shouldn't be pointed at people's eyes or faces to avoid injury.
This is one of the best popper guns that can blast targets up to 26 feet away. The blaster is easy to use, requires no batteries, and can fire multiple rounds at once. What is more, you don't have to perform any assembly once you receive the toy gun. The package comes with 10 orange balls, all of which are safe for children.
You can never get enough of fun shooting games, and the same goes for this model. The Funyole toy set contains two blaster guns, three target cans, one space-themed target, and 24 foam balls. The guns can hold up to 12 balls and require no batteries to operate. The weapons are air-propelled and the foam balls don't pose a threat to the players' safety.
It only takes a few minutes to set the game in motion. To prepare your blasters, fill them with the foam bullets and pump the handle back and forth to fire the rounds. The foam balls are so soft that there's no need to worry about damage to household items. Just load the weapons and let the fun begin!
Last, but not least, the Goldboy popper gun set brings a lot to the game. The included two air foam weapons are an excellent option for indoor playing. The blasters are suitable for children aged five or older.
The toy gun comes with 24 soft foam rounds and shoots them using air. The balls can reach up to 20 feet, and the faster the player pumps, the faster the balls will travel. The blasters can contain a maximum of 12 pieces of ammo.
The materials are also high-quality and safe to use. The gun features ABS plastics, which emits no toxins or nasty odors.
It's Time for a Thrill-Packed Shooting Adventure
Giving a truly surprising gift to your kid (or even someone older) might have been tough in the past, but things are much easier now. All you need to do is pick up one of these seven foam poppers online, and the recipient will be screaming with joy. Decide on the perfect item, and countless hours of safe shooting will be coming their way.