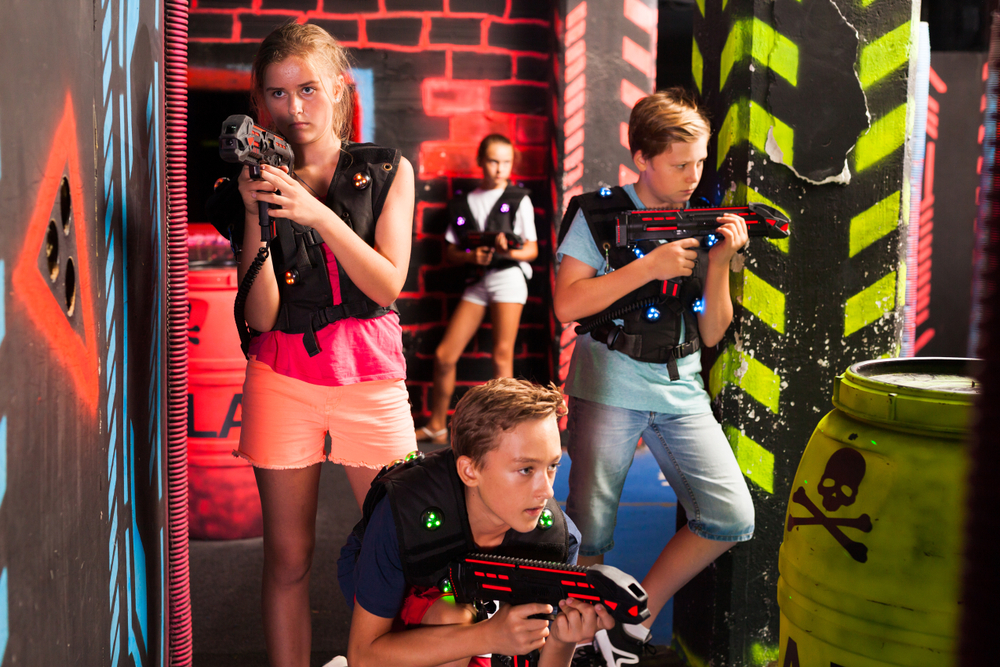 The 5 Best Laser Tag Guns
You may have noticed how hard it is to get kids (and adults) these days to play games and have fun outdoors. The appeal of the screen overpowers most other potentially fun activities with a physical component.
However, toymakers are constantly innovating, and one of the most exciting recent innovations are home laser tag sets. The idea of laser tag has been around for decades, but compact laser tag technology can bring the fun right into your home.
To help you get started, we've put together this list of the best laser tag sets available right now.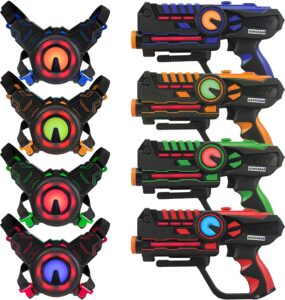 ArmoGear has quickly built a reputation as one of the most popular manufacturers of laser tag equipment, even displacing some of the giants, such as Nerf. This set comes with four guns and four vests.
Sets with vests are generally superior to sets with only guns. Sets that only have guns place the target on the gun itself, encouraging some players to cheat by covering up their target sensor. With a vest, there's nowhere to hide, since the sensor ends up on your chest.
ArmoGear's set also features the industry-standard four firing modes (pistol, shotgun, machine gun, and rocket). Each firing mode has its pros and cons and it's nice to have a firing mode that fits your play style.
ArmoGear also manufactures a whole line of accessory products for laser tag battles. When you're ready to upgrade your game, you can make sure everything you buy is compatible by purchasing from them.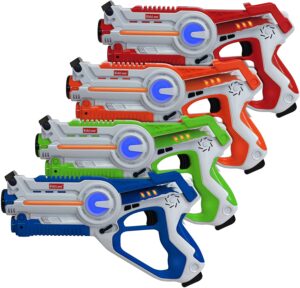 Kidzlane is another popular toymaker that offers solid laser tag sets. Their biggest claim to fame is a reliable range of over 150ft, which is far better than the average laser tag gun.
This Kidzlane set features only four laser tag guns and no vests. Not using vests is a small drawback, but they make up for it with an elevated hit sensor directly above the targeting sights. Having the sensor in that location makes it almost impossible to both cover it and take aim at opponents.
The guns can also be teamed up. Players can form two different teams and the guns won't work on players of the same team. Team play is one of the most exciting aspects of laser tag and you should always look out for it when buying laser tag sets.
One small caveat about this set is that the guns aren't super sturdy. Sharp blows or drops on hard surfaces tend to cause significant damage.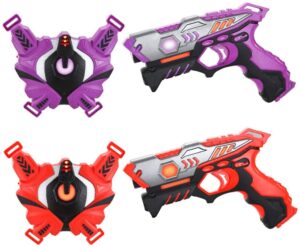 If you're on the fence about the whole laser tag experience, a great way to test it out is by investing in a 2-gun set. TINOTEEN offers a fantastic product at a reasonable price with all the features of a top-shelf laser tag set.
Their guns have a unique design which makes them stand out from other manufacturers and they're known for being ergonomic and comfortable. Despite the low price, they use high-quality sensors and you'll rarely get "false shots," which are a problem with some brands.
The 2-gun sets are also a great way to expand your arsenal. TINOTEEN makes 4-gun sets as well, so if you ever want to add more players to the pool, you can buy as many or as few more guns as you need.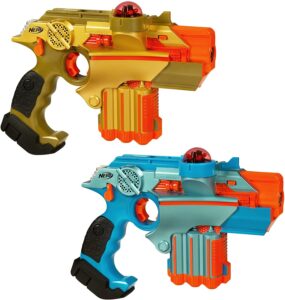 Now, we're diving into the deep waters with Nerf products. Nerf has been making laser tag guns for a long time, and they're widely considered to represent the best quality on the market.
Their 2-gun Phoenix Tagger LTX set has far superior components to the much cheaper sets available. It's hard to understate how big of a difference it makes to have a loud and crisp microphone that registers hits. Or, how important it is that the hit sensor registers hits in a 360-degree radius.
As good as the Nerf guns are, they do have a few drawbacks.
For one, all those quality components need a lot of juice. You'll need six AAA batteries versus the industry-standard four for each gun. Moreover, quality comes at a price and these are up there among the most expensive laser tag guns around.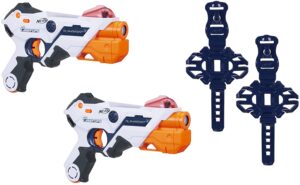 The Laser Ops Pro is Nerf's latest attempt to tap into the augmented reality laser tag field. The idea is to use your smartphone with an augmented reality app that enhances the game experience. You already know that nerf makes the best toy guns around, so you can expect a quality laser tag gun from them. 
It's a good idea, in theory, but the execution still has a way to go before it's in line with what players expect. Some players love it, others don't care for it, and some refuse to use it altogether. The good news is that the guns work with or without the augmented reality component and they're great guns.
They have a phenomenal shot distance of 225ft and fantastic accuracy. The smartphone app also allows players to customize the gun and make adjustments in the heat of battle, which is a nice addition.
Their one major disadvantage is they're not compatible with other nerf laser guns.
Tips for Your Next Laser Tag Battle
Getting ready for a big laser tag shootout? Here are a few tips to make sure you come out on top:
Stock up on batteries! Each gun uses four to six AAA batteries, so you're well-advised to get a value pack before the big day.

Keep shooting. Laser tag guns don't run out of ammo, so you're not doing yourself any favors by holding back shots.

Location, Location, Location. Learn the layout of your chosen field as soon as you can and learn what the best places are to hide and shoot. It will give you a big edge.
Let the Lasers Fly
Any one of these laser tag sets will provide hours of fun with even a modicum of care. If you just want to have a one-time birthday bash or test the waters, choose one of the low-end sets.
However, if you're already a laser tag aficionado (or hope to become one), you owe it to yourself to get one of the higher-end sets, such as Nerf or ArmoGear.
Lock and load, and may the best laser win!