Shooting toy arrows is a great all-around activity for kids. Besides providing fun during playtime, it can benefit their development and perhaps even direct their interest toward real archery. The sport is amazing and safe for young children, but that's a topic for another time.
What's essential to a kid is that they have a great time with a toy. A good bow and arrow set will get your kid playing outdoors more often. It'll also train their focus and patience, while having heaps of fun. That's why we've compiled a list of the best toy bow and arrow sets.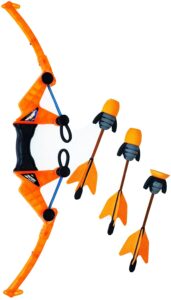 The Zing Air Storm is so expertly crafted that it doesn't seem fair to call it a toy. The bow profile is carefully made to be easy to use, with either a right or left hand. The power cords are ultra-durable and can be pulled back with ease. With its bungee cord strength and the quick-load loops, the bow is capable of rapid-fire and has an amazing 155 feet range. There are also clips for storing backup arrows. The Air Storm Z-Tek bow comes with one suction cup head and two soft head whistling arrows. The heads and fins are made of soft foam, making them perfectly safe. This is a bow and arrow set that might often change hands from kids to adults.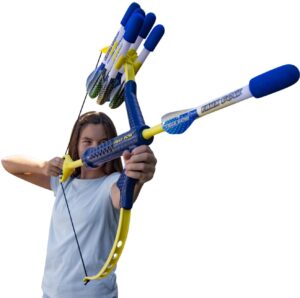 This isn't a regular bow and arrow set, by any means. The bow has an arrow opening in the middle of the frame, with a handle going through it. The bowstring goes through the handle, and this alternative design allows for a quick release. To further increase the speed, there's a quiver at the top of the bow, which holds six arrows. Both the bow and arrows are made from light, yet durable, materials, which makes them safe and easy to use. The six foam-tipped arrows included in the Marky Sparky Archery Set can fly up to 100 feet.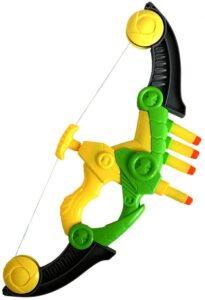 While it's very toy-like in appearance, the WenToyce set is an excellent simplified replica of the real deal, made especially for kids. The materials are lightweight, durable, and long-lasting. Since the bow features a handle design, and the ammo is darts, which fit neatly in the front slots, the set is also easy to carry around. The bowstring has light tension, making it perfectly safe. The short "arrows" have suction cup soft heads, so there'll be no damage done due to ill-placed shots. You'll get four darts along with the bow - counting the loaded one, that's exactly how many can fit on the bow frame.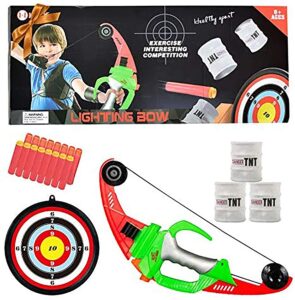 This bow and arrow set strikes the right balance between a playtime toy and an introductory item for archery. The bow is light and smooth, made from excellent materials that give it sturdiness and longevity. The string is adjustable for optimal tension and accurate aiming. There are four slots on the frame for the dart ammo, and the bow has a handle for more convenient carrying. The darts are soft, safe, and contain materials of the same quality as the bow. The set includes the bow, 16 darts - eight with suction cup heads, three "explosive barrel" practice targets, a bullseye target, and a storage bag.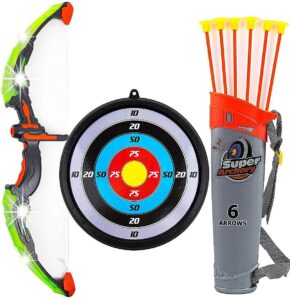 The Toysery Archery Set is all about providing kids with great fun. The whole set has a simple, light design that ensures ease of use. All materials are high-quality, the surfaces are smooth, and the set is entirely safe for kids. The arrows have suction cups heads, though their other end has no feathers and looks a bit pointy. To compensate for that, there's a cup in the middle of the bowstring, where the tail end of the arrow goes. Included in the set are the bow, three arrows, a quiver, and a target. The target has LED lights that flash when the arrow hits it, and these take two AA batteries, not included in the package.
The Zing Hyperstrike is made for some intense, extremely fun, battle playtime. By default, the bow comes in a green camo pattern, so the whole playground knows you mean business right from the get-go. It has a range of over 250 feet, which surpasses even some ranges used in competitive archery. It's powerful, accurate, and light. The bow can be used with either the right or left hand, and the launching loops make reloading fast and easy. The Hyperstrike Bow comes with four soft foam whistling arrows. It's an all-around awesome bow, created for superb playtime, but with more serious features too.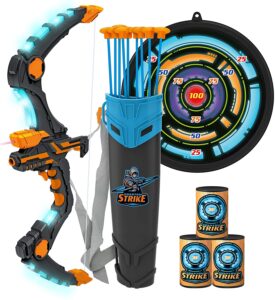 If professional kids make-believe archery was a thing, the Joyin set would be among the staples of the sport. It's sturdy, flashy, and has the perfect look for an archery toy. The bow is designed as a toy replica of a real archery bow but has a touch of science fantasy elements in its shape. What's even more fantastic are the flashing LED lights, with different settings to show off. It's materials are of top quality, and the set is safe for kids. Along with this sci-fi bow, you'll get nine suction cup arrows, a quiver, three foam barrel targets, and a plate target.
You Have My Bow
A good bow and arrow set is a perfect gift for kids who like action and adventure. Kids of entirely different temperaments can enjoy these toys - it's an awesome make-believe weapon for the livelier child and a concentration and confidence booster for those of milder spirit. Either way, when role-playing as archers, kids will develop their hand-eye coordination, practice their motor skills and accuracy, and much more.
These toys will bring much joy and useful recreation to every child. If you pick any one of these best toy and arrow sets, the kids are guaranteed to love it.