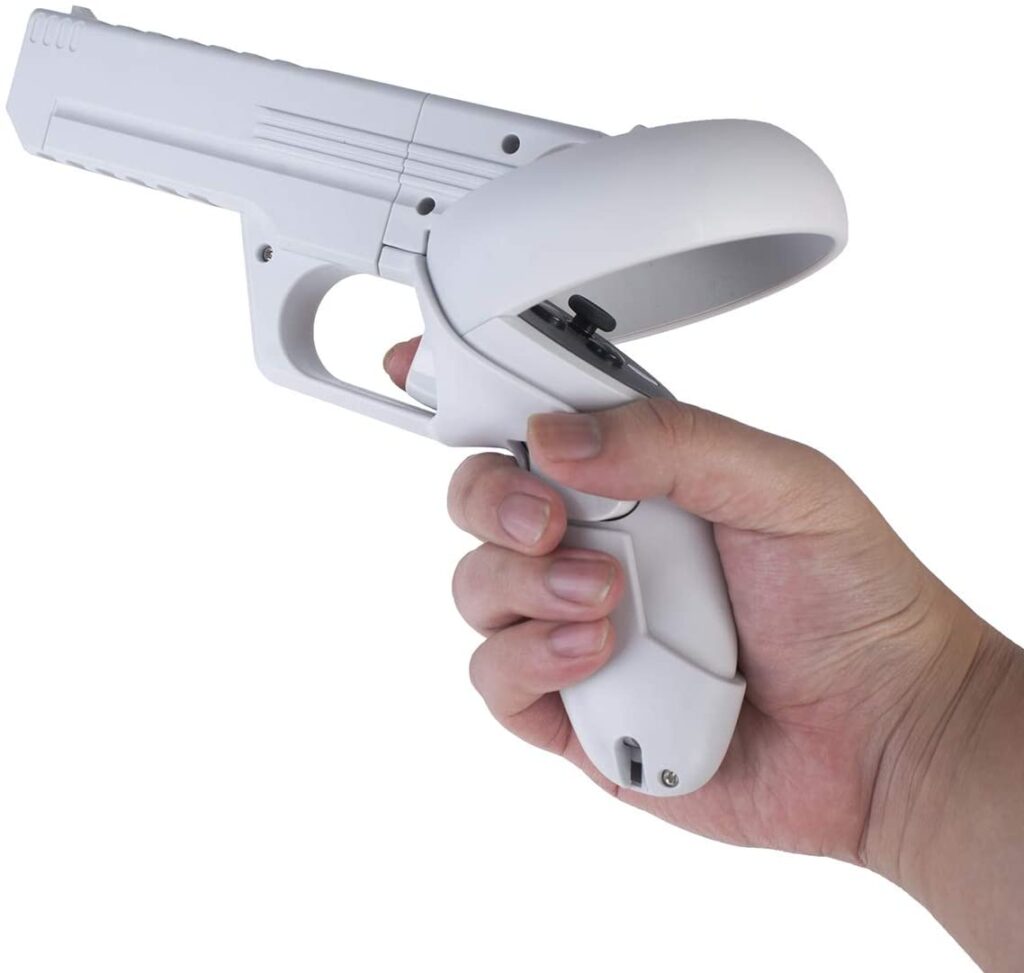 So you are looking for the best Oculus gun controllers? The Oculus Quest headset provides one of the best VR experiences for gamers. The technology it uses is so advanced it has contributed to the full re-discovery of VR gaming. It has also led enthusiastic gamers to seek the perfect gun controller design for a more authentic experience.
Fortunately, there are countless options on the market and something for every user. However, there are a few gun controllers that stand out from the rest.
In this article, we'll introduce you to the best controllers for Oculus shooter games and tell you more about the best features of each product.
One of the first things you'll notice about the SINWEVR gun controller is that it looks fantastic. Grabbing this controller will immediately transport you to Robo Recall or Onward games.
It effortlessly connects to the Oculus Quest VR headset and provides an amazingly realistic feel. The pistol-like grip only enhances the sense of being right in the middle of the action.
The lightweight construction ensures excellent balance, so you don't have to worry about aiming at the target in the heat of the moment. The ergonomic design is there to prevent any hand fatigue that might strike at the wrong time.
We also love the fact that this gun controller is easy to assemble. There are no annoying screws or any additional hardware – only three parts that lock in together swiftly. Overall, this gun controller is sturdy and durable.
It's absolutely one of the best Oculus gun controllers currently available. If you're looking to take your VR gaming to the next level, this aesthetically pleasing yet super durable gun controller is well worth your consideration.
Not all popular gun controllers are made for Oculus Quest specifically. On occasion, this can create technical issues and a less than optimal VR gaming experience.
But that's not the case with the Esimen gun controller, though. These brilliantly designed dual guns are made to match the needs of Oculus Quest users. Oculus Quest 2, specifically, requires the use of gun controllers to gain the full features and capabilities of all shooter games.
This set of gun controllers provides unbeatable realism for several reasons. First, you get full access to all the buttons. The finger indentation located on the grip of the gun controllers allows extra comfort and better positioning.
Furthermore, the extra weight the controllers carry adds even more to the overall realistic sensation. These gun controllers will make you feel like you're in the middle of a Pistol Whip or Superhot game and will make you wonder how you ever played without them.
The steady two-handed weapons are particularly helpful in Onward due to the increased balance. The Esimen VR gun controllers have an excellent three-piece design. You can assemble and lock the devices in no time, and they're generally easy to clean and maintain.
The white color scheme delivers a crisp and minimalistic design that only adds to the appeal of the product. However, for those looking for a more traditional option, they come in black too.
Keep in mind that this gun controller set might not be the best fit if you're using a different VR headset. On the other hand, these are some of the best Oculus gun controllers money can buy.
What are the essential features of a VR gun controller? Wireless connectivity, haptic feedback, high accuracy, weight, and fast response time are at the top of the list.
All of those features combined deliver a fully immersive VR gaming adventure. And that's precisely what Oculus Quest users will find in the Glistco Magni Stock Controller rifle.
Wielding a rifle in VR gaming is no small feat, and users need something that will make it seem effortless. Fortunately, the Glistco Magni Stock rifle is made from extra-durable and super-lightweight carbon fiber. The matte black carbon fiber tubes deliver a sleek look too.
On top of that, it features magnets to ensure the locking of this gun controller to the Oculus device. This brilliant design keeps both the user and the rifle safe.
We also appreciate that the Gliscto Magni rifle comes with a nylon strap, facilitating easier handling with its two-point sling. The bottom line is that you don't have to worry about setting the rifle frame while in the heat of battle.
Overall, this stock rifle keeps everything perfectly aligned and catapults you to the next level of gaming. There is no wobbling during super-intense exchanges, and there are zero compromises in terms of comfort.
If you're a fan of a first-person shooter or FPS games and an avid Oculus 2 user, this is one of the must-have gun controllers. What makes this gun stock controller unique is that it's fully 3D-printed.
Some users might be reluctant to make a purchase due to how it's made, worrying that it won't be sturdy enough. Luckily, the manufacturers have made a tremendous effort to make this gun controller incredibly durable and reliable.
It's a perfect fit for Oculus Quest 2 as it's easy to install and use. However, inexperienced gun stock users will have to practice mounting and unmounting the gun controller without the headset first. This strategy will ensure muscle memory but will take up to an hour and a half to get used to it.
It's also imperative to keep a close eye on your 3D-printed gun controller. Leaving it exposed to the sun could result in melting. Otherwise, with careful maintenance, this is a durable magnetic gun stock that also comes with a sling for even easier use and more balance.
Inevitably, younger users might be intrigued to try this amazing-looking Quest 2 VR gun controller, but the device is designed for children 15 years old or above.
VR gaming already takes you out of this world and moves you into a more exciting, action-packed universe. The only way first-shooter escapades get better is by holding onto a set of fantastic gun controllers.
If Oculus Quest 2 headset needs a little more realism, consider using the X-Super Home pistol-grip set. They're easy to install and use. Plus, you get full buttons access for an even more realistic experience.
When you're playing a game such as Pistol Whip, you'll be staring down the barrel of the gun and forget that you're actually in your living room! The design of the gun controller set is patented and completely wrist-strap friendly.
All of this means that the gun controller is cradled at the correct angle and avoids unnatural bending of the wrist. The quality of the construction is excellent as well.
All the pieces are sturdy and very easy to fit together. You don't need any instructions to construct these pistols and start the game immediately. Users who complain about gun controllers being too lightweight will likely appreciate the nearly nine ounces each gun controller features.
Finally, this set comes with a one-year limited warranty and extremely efficient tech support. Plus, if you're not happy with the product, you get a 30-day money-back guarantee.
Choose Your Weapon and Win the Battle
There are many ways you can use Oculus Quest devices. You can watch a movie, become a virtual explorer, and even destress in natural environments. However, it's the VR gaming where Oculus Quest devices excel.
The only way to make it better is to rely on some of the best controllers for Oculus shooter games. There are brilliant designs to consider whether you're a fan of a pistol grip or a stock rifle controller.
Keep in mind that some users will gravitate towards more lightweight construction and others for a heavier item for more realism. Regardless, what matters is that all of these devices provide a superior VR gaming encounter.